Farewell to oil, gas and coal
Just don't flatter yourself right away.
How many times have declarations sounded in Russia that it is time to get off the oil needle or - tired of being a raw material appendage of the West?
Do not count, especially since very odious personalities were especially different in this field. Starting with the likes of Grigory Yavlinsky, the founder of the now inspiring Yabloko. Or the unkindly remembered privatizer and deputy prime minister Anatoly Chubais, now exiled to hell even from Rusnano. Nobody gave the first 500 days for his "Program", but the second - he even managed to crank up the energy reform.
We will say more about it, but here - about the realities of our days.
Energy transition is on the agenda. Large-scale and irreversible, but clearly protracted, albeit consistent. Prime Minister Mikhail Mishustin has recently called for him, while President Vladimir Putin has been meaningfully silent so far.
The elections, as you can see, interfered, but something will have to be done. Who and when specifically, we'll figure it out later.
Now let's try to predict when and what to expect?
To begin with, let us recall the structure of the Russian energy sector, and also show how alternative energy is in a number of countries of the world, including Russia. In the form of a pair of not the most complicated charts.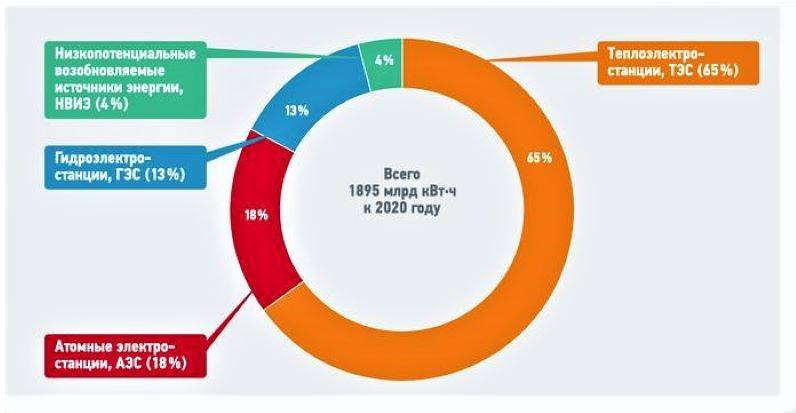 The first is the Russian energy layout.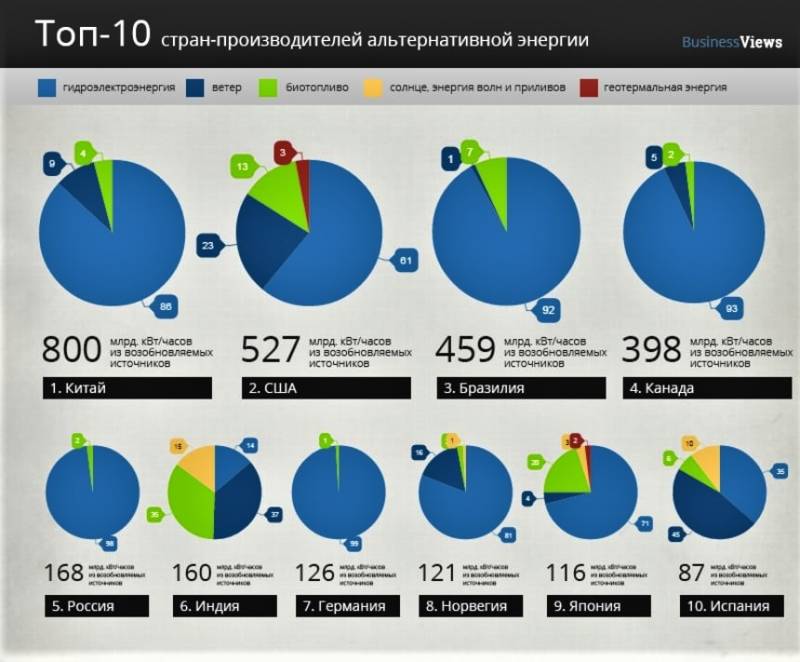 In the second place are a dozen countries that are more active than others in promoting alternative energy.
Alternative.net
As you can see, you really have to do something.
In Russia, it is obvious that there is nothing of the alternative so far, in fact, except for hydropower. The authors also consider nuclear energy as an alternative, but few agree with us, although we expect to substantiate our point of view soon.
It's better to do something early than late. Especially with regard to tariffs for electricity, and even for heating, and especially taking into account the current European prospects, for which, of course, as always, the Russians are to blame.
It was they, the Russians, who so hastily completed the construction of their second "Nord Stream" and are not letting gas through "Square Nenko" Ukraine.
As you know, the Russians themselves noticed the first jump in electricity prices too late, since after the same Chubais reform it was neatly smeared over the years, but now we have a kilowatt at least three times more expensive than in the early 2000s.
Again, we confirm this with the graph.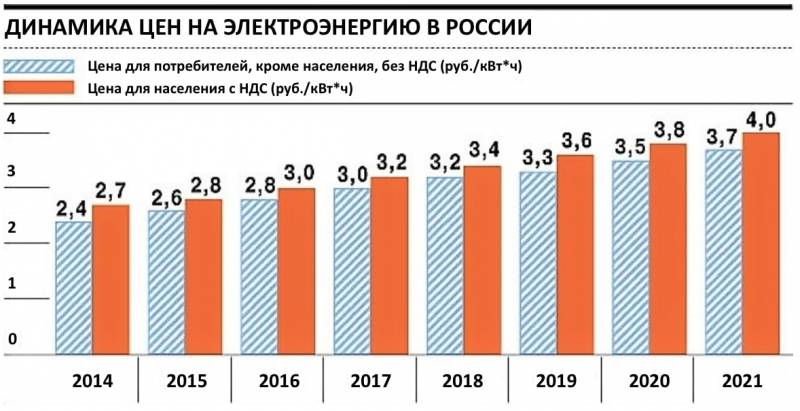 As you can see, since 2014, prices per kilowatt have almost doubled, and if you count from the reform, even more. Although we were promised quite the opposite - a drop in tariffs due to competition.
What the hell is the competition between the oligarchs, who "painted" RAO UES?
And this does not look very noticeable only against the background of a general rise in prices and at least a two-fold drop in the ruble exchange rate. In practice, we are dealing with a real energy oligarchy, and the energy tariff, coupled with exorbitant bank rates, works like a real brake on the economy.
Against this background, one can only wonder where the funds for alternative energy come from? Indeed, until 2024, state support measures are in place for the construction of generating facilities based on renewable energy sources.
By all indications, this is the very alternative that the prime minister mentioned. But the money was allocated for it, as they say, to the envy of enemies? And without taking into account nuclear energy, which, in fact, is the same alternative and also based on renewable sources, this is a matter of a very near future, as will be discussed in our next review.
Optimists and Realists
However, those who are currently implementing the corresponding program into practice are full of optimism and even say that the energy transition will happen even faster than they assume at the very top.
For example, Alexey Zhikharev, director of the Association for the Development of Renewable Energy, has no doubts about it.
He reinforces his conviction, referring to the fact that prices for green energy in a number of selected renewable energy generation projects turned out to be even lower than those for traditional generation. But after all, in the program itself, it was not about hundreds, but only tens of billions, and not dollars, but rubles?
In addition, investments in an energy alternative, by definition, require a return, and even with a guaranteed return. You will not particularly roam, although, of course, for the sake of the notorious "profitability", you can write off to zero the costs of recycling the same wind turbines or solar panels, since this is a matter of a very distant future.
But then, at least the amounts are impressive.
At first, as much as 2035 billion rubles were allocated for a similar program until 400, then the amount was cut to 350. We divide it by 10, if not 11, and we get 35 billion a year. Agree, some pathetic.
Especially if we consider, for example, that a single field of wind turbines with a size of 100-200 hectares (more in few places) costs about a billion. Think for yourself - each wind generator is at least 20 million, and with equal installation and infrastructure costs, you can't place more than fifty there.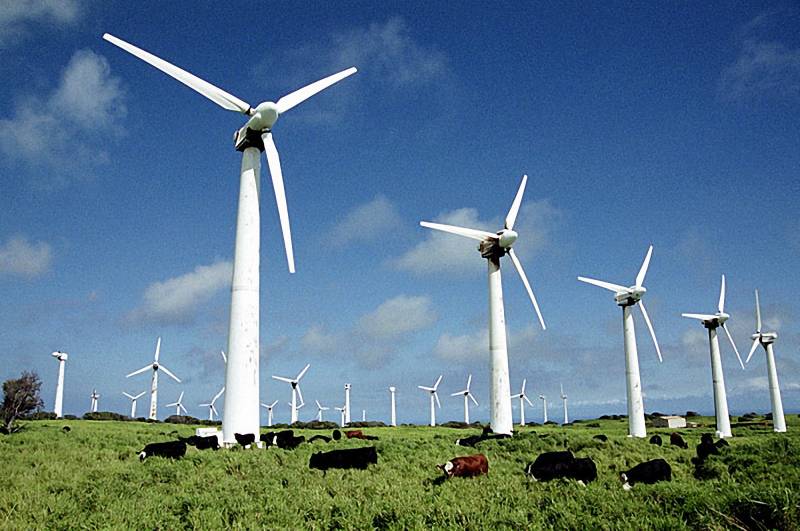 As a result, the output, again, is miserable (sorry for repeating ourselves) kilowatts, megawatts, even gigawatts, which are many times cheaper at the state district power station, and even more so at nuclear power plants. At least they have managed so far.
This was not a reform, but a robbery
And yet there is some kind of return, but all this excitement itself, what is it? Tribute to fashion or fear about what we will leave behind?
It seems that both of them together, and even the factor of the presence at the top of the not very frostbitten or "wild", according to Mikhail Delyagin, after all works.
And, in the end, the Ministry of Energy, not without reason, expects that by that very 2035, at least 6,7 gigawatts of capacity on renewable energy sources will be commissioned in Russia.
First Deputy Prime Minister Andrei Belousov generally compared the energy transition with the industrial revolution, thank you for at least not with the GOELRO plan.
Nevertheless, power engineers, including "alternative workers", are simply obliged to thank the organizers of the recent reform of RAO UES for the promising (in terms of capacity renewal) energy tariff.
It seems that indeed, in a market economy, only an inflated tariff could have pushed the Russian energy industry onto the path of transformations in favor of an alternative. Yes, overpriced, and artificially, and even for the sake of separately elected new owners of energy capacities.
And it is not for nothing that one of the leading employees of the G.M.Krizhanovsky Energy Institute, Georgy Zarochentsev, when he was put on the table in the early 2000s to split RAO UES into dozens of wholesale and generating companies, immediately exclaimed:
"This is not reform, this is robbery!"
What efforts it took for the industry professionals to maintain at least a single network company in Russia is a topic for a separate study. Well, for the sake of developments in the field of renewable energy, one could do without outright robbery of fellow citizens. That, in the end, is in the treasury and reserve funds.
Who will go first
In principle, they were the first to go, and for a very long time - hydropower, nuclear scientists and developers of such original things as tidal stations or even those powered by volcanic exhaust. Among the current "green" newcomers in the forefront are clearly those who work with the wind.
In Europe, however, it went, albeit with a creak, and with smoke, and now with waste, which, as you can see, the descendants will have to clean up. In terms of composites, we are not lagging behind the West, in many respects we are even ahead, and we have much more free land, so we are ready to build.
In the near future, more precisely - for 2025–2027, it is planned to build up to four dozen wind generation facilities with a total capacity of 1,39 GW by the Wind Parks company, which was created by Rusnano and the Fortum company, which has at its disposal 4,7 GW of generated power from seven thermal stations.
In turn, specialists from Rosatom, one of the leaders in the production of composite materials, have long been involved in wind projects. The Novavind nuclear company plans to commission up to 0,5 GW.
Hydropower is literally on the heels of wind energy. So, in Kabardino-Balkaria, Chechnya and Dagestan, the go-ahead has already been given for the construction of three small hydroelectric power plants.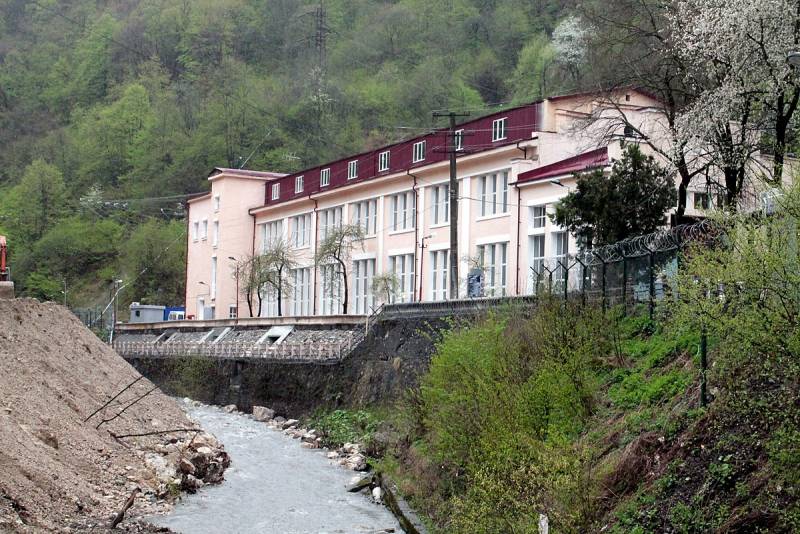 Sorry for repeating the picture, this is one of the small Russian hydroelectric power plants - Gizeldonskaya in North Ossetia
The manufacturers of solar batteries have lagged behind a bit, although the technologies there are no less advanced, and up to 0,8 GW of power capacity may be introduced in the near future. It's another matter that in Russia everything is not as good with the sun as with the wind, but you can find a place. It will be more difficult with the transfer of energy, which makes solar energy so expensive.
Nevertheless, a series of large projects in Dagestan, Kalmykia and the Astrakhan region, sometimes with a call to the Caspian Sea, are already being prepared for implementation. The timing is not yet clear, but it is most likely possible to count on the beginning of the 30s.