Negro, aircraft carrier and BLM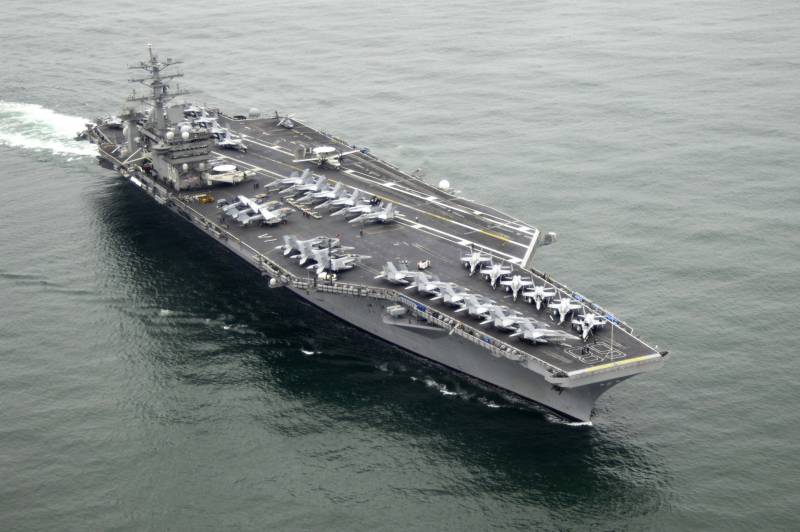 Oh, these Americans ... Especially from Black Lives Matter ...
The United States of America continues to play its favorite game: building huge aircraft carriers. But even in such a case, sometimes everything turns out so that the hair just stands on end. And now you will meet one
history
, which is not devoid of black humor in every sense.
By the way, about black humor. One way or another, the author is not a racist and is quite tolerant of even the fact that one black man in the whole "Formula 1" gets up in this regard. Well, there "kneel and repent" and stuff like that. Even the Finns and Russians, who are no sideways to racism. Well, Louis Armstrong and Duke Ellington - and in general our everything.
It's kind of confusing, right? Well then, in order.
Let's start with the Ford-class aircraft carriers.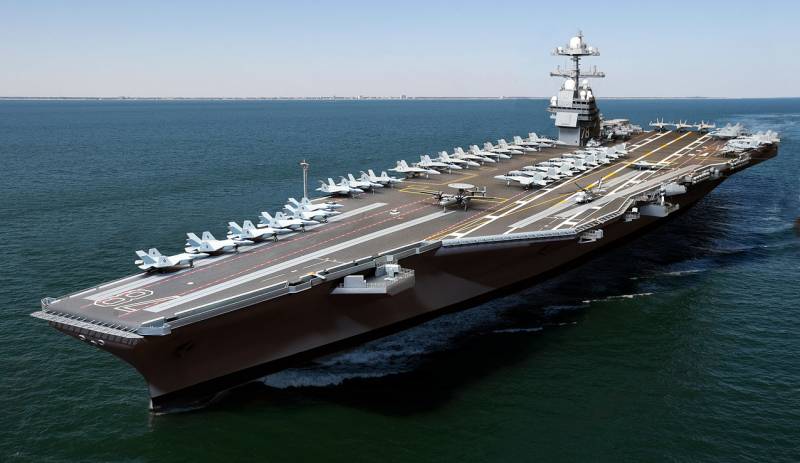 These are terrible troughs, under 100 thousand tons of displacement, with a CWS inflated to the state of "Count Zepellin" (which is an airship) and cost as the annual budget of Moldova.
The Americans learned how to build this once, and, apparently, it is contagious, because they cannot calm down in any way. They build and build. And they (aircraft carriers) break and break. But sometimes they can sail to North Korea and show off a little there. Because they are very large and can afford it. United States, I mean.
And while some walk and swim, others are being built in the shipyards. And here the intrigue arises: what to call it?
Those who tried in their youth to create a rock group or open a company will understand that this is a very difficult business. Because "what do you call a yacht ..." - and then everything is clear.
And this is not a yacht. Here, sorry, an aircraft carrier. Beauty and pride of America in every sense. And this beauty floats on the ocean ... budget tears. But since you have to swim beautifully even in tears, you need to name them accordingly.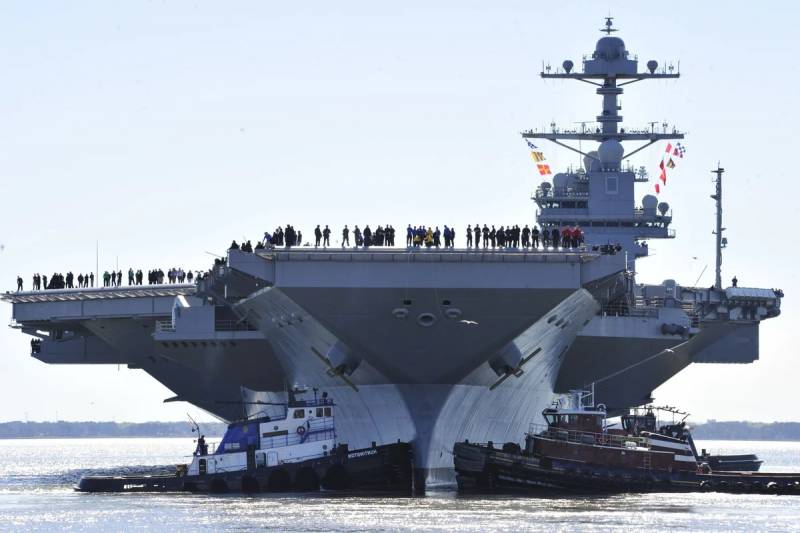 As we all already understood, in order to name an aircraft carrier by your name in the USA, you have to be an outstanding person. For example, Leslie Lynch King Jr., aka Gerald Rudolph Ford Jr., 38th President of the United States. Such a fighting guy, from an ordinary family, who served on
navy
and fought for three years in World War II. And then he became president, and, moreover, very good.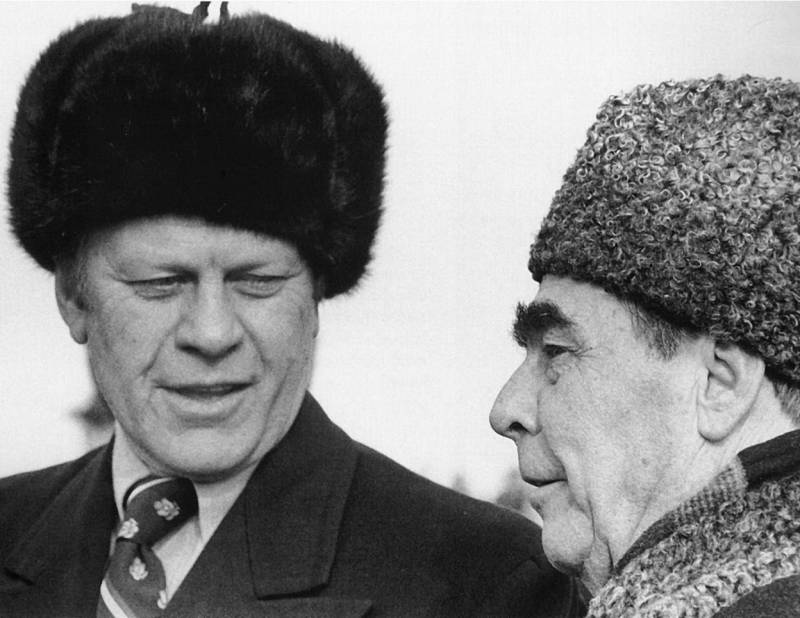 Ford, if anything, on the left. Right Leonid Ilyich Brezhnev
Or John Fitzgerald Kennedy. Also the President of the United States, only 35th in a row.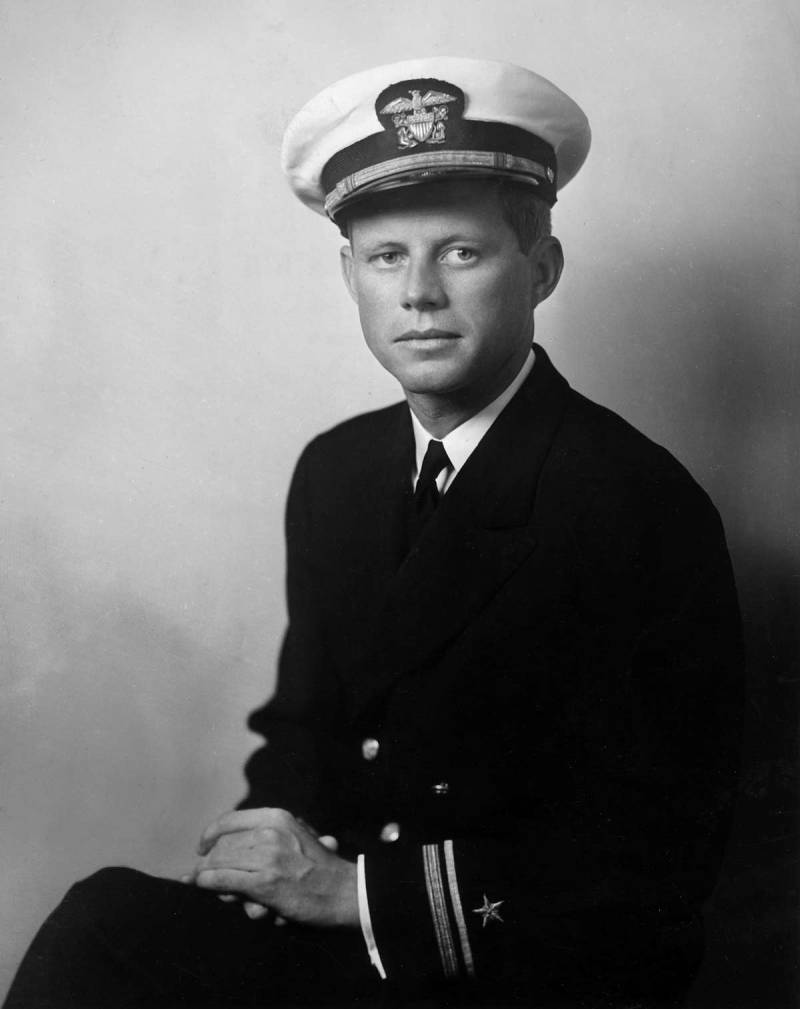 We pass as the commander of the RT-109 torpedo boat, who behaved quite well when the boat was rammed by a Japanese destroyer and cut in half.
Well, and then in the same spirit: admirals, senators, presidents.
Suddenly, the fourth Ford-class aircraft carrier will be named after Doris Miller. It's funny, but even Vika the know-it-all does not really give information about this person.
But I wonder who it is, since such a ship is named after him? Admiral? No. Former US President? No. Senator or Congressman? Again, no!
Doris Miller is a third-class sailor in the US Navy and a messenger on the battleship West Virginia. Black.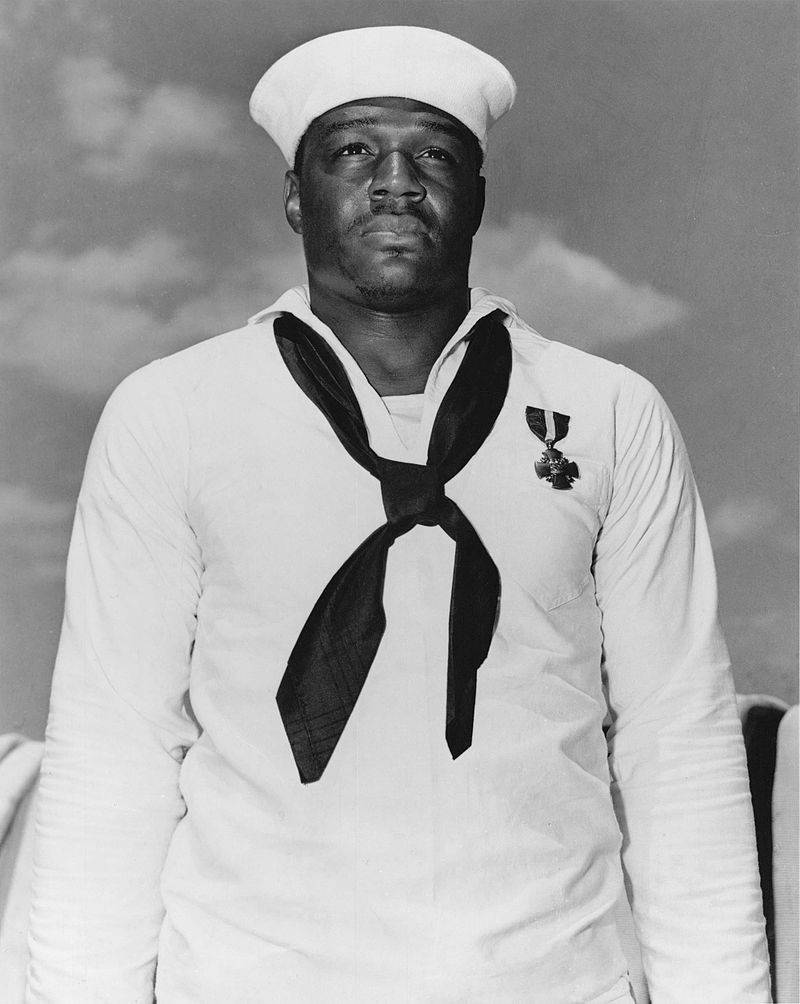 Not bad, huh?
Next to Nimitz, Kennedy, Ford, Bush and Reagan - this is Doris Miller. That's what democracy does, isn't it?
What kind of superhero is equal to presidents and admirals?
Doris Miller, a native of Texas, was born on October 12, 1919. Until September 1939, he did not show himself in anything, but with the outbreak of the Second World War, he volunteered for the navy.
Given his racial identity, Miller didn't have anything but a job as an attendant, and he was appointed messenger to the wardroom of the battleship West Virginia. I believe that he was not oppressed very much there, a third-class sailor weighed about a hundred kilograms with a height of 190 centimeters. Moreover, Miller very quickly became the absolute champion of the battleship in boxing.
In short, a classic negro mordovorot with a patriotic bias.
In general, Miller served quietly on the battleship, served dishes and cleaned in the wardroom, on weekends he beat whites on the sly in the ring, and everything was relatively good for him. Plus, in my spare time, I took courses for an anti-aircraft gunner.
The idyll lasted, you guessed it, until December 7, 1941. When the Japanese Navy team visited Pearl Harbor.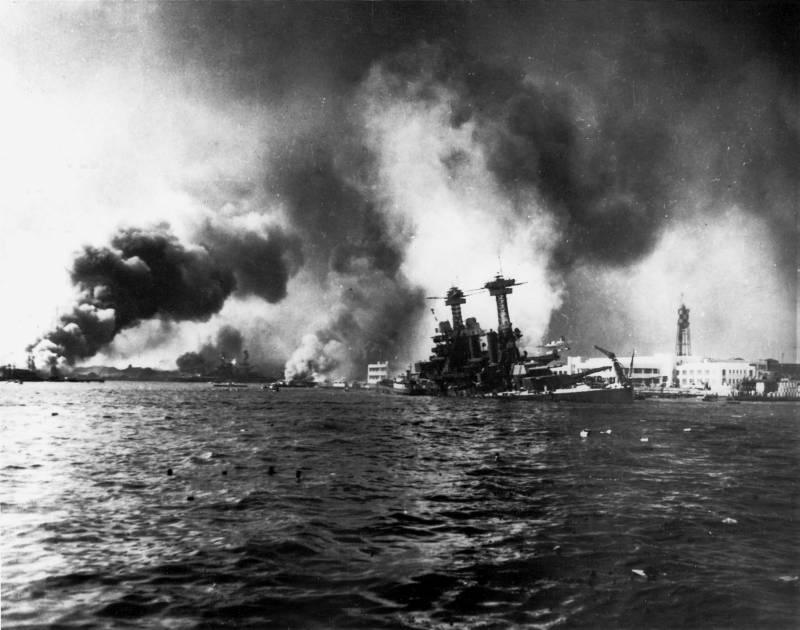 Miller was quietly serving breakfast to the officers that day when the first torpedo hit the battleship at 7.47. Everyone realized that something had gone completely wrong and jumped out onto the deck. And there was already a show to smash Virginia to pieces. The bridge was covered with bombs, the anti-aircraft gun, to which Miller was assigned according to the combat crew, also ordered everyone to stand to death, so the first thing for Miller was the order to transport the wounded and shell-shocked ship commander Bennion to the infirmary. Nobody was going to sink then.
After the infirmary, in the reigning chaos, Miller was put to the twin anti-aircraft "Browning", a carrier.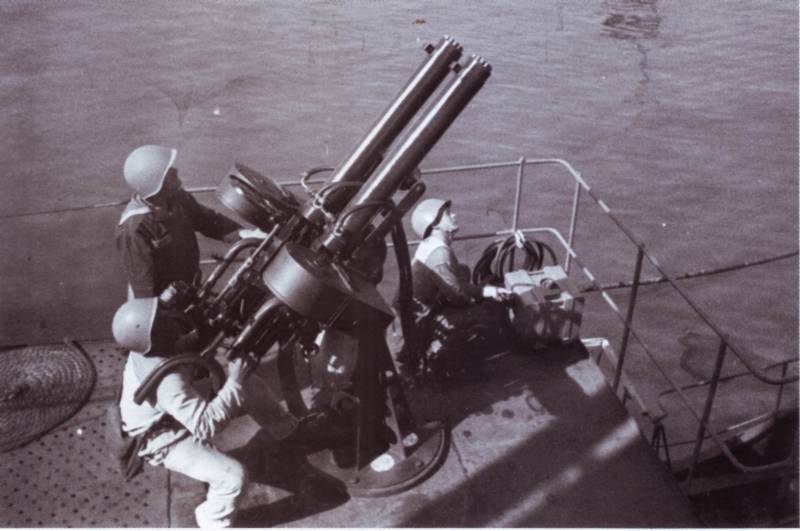 However, after the gunner failed (he did not find clearly what happened to him, most likely a shrapnel or a bullet), Doris himself stood behind the installation and continued to shoot until he ran out of cartridges. It has been reliably confirmed that he shot down one Japanese.
All is well, but by that time the underwater part of the Virginia had turned into a sieve, since 9 torpedoes are a lot even for a battleship and the ship began to sink.
The crew was very lucky that there were so many torpedoes. The battleship sank very quickly, on an even keel, in fact, just sat down on the ground.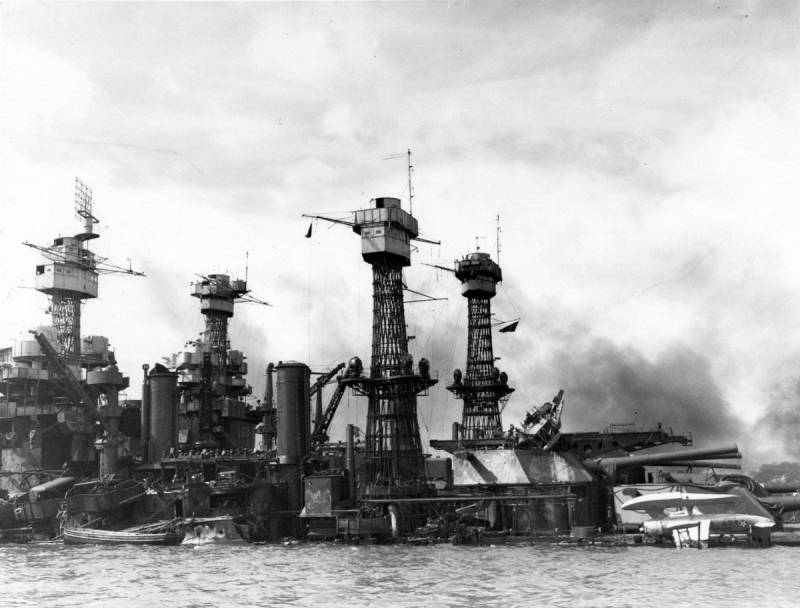 It is noted that Miller, after he ran out of ammunition, did not sit still, but started helping his wounded comrades get to the shore.
In general, he behaved like a normal sailor, if so.
After such a slap in the face, as usual, heroes are very much needed. And Miller was lucky, he became such a hero. He was even almost awarded the US Congress Medal of Honor, the country's highest award for the military, but they thought better of it in time. Miller was awarded by Admiral Nimitz, after whom the aircraft carrier will also be named, and awarded the second most important award, the Naval Cross.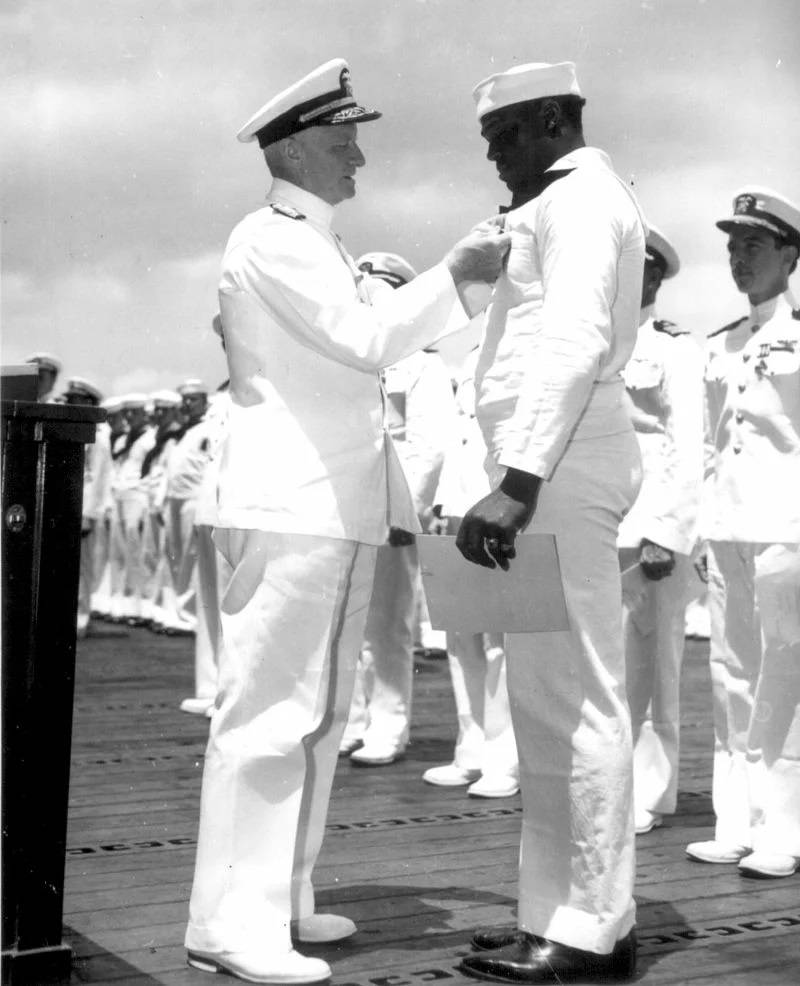 By the way, the presence of Miller and the Purple Heart among the awards suggests that he was wounded. And this is definitely not the case in the wardroom usually.
Miller became a naval icon for a while, toured the country, encouraging blacks to enlist in the navy. By the way, he did quite well. A hefty black guy with a high award on his chest - what an example for others?
I would say that Miller showed that blacks are not only suitable for the role of waiters and cleaners.
And then Miller was sent to serve on the escort aircraft carrier Liskom Bay.
Alas, this was the end of his service, because a short time after the beginning of his service (started in July 1943) "Liskom Bay" on November 24, 1943 received a torpedo salvo from the Japanese submarine I-175.
The aircraft carrier sank, and Miller was not among those rescued.
In general, let's say this: not the greatest merits, right? If we are talking about guys who worked wonders on the battlefields, then Miller was definitely not suitable for the same Matt Urban, the crazy Pole who was awarded the highest number of military awards in the entire war. One collection of "Purple Hearts" - seven. Or Warren Gracie, "The Worst Man in 761," who also did some work during the fighting in France.
But heroes are sometimes not chosen, they are appointed. Admiral Nimitz would probably be very surprised if he found out that an aircraft carrier would also be named after the black sailor to whom he presented the award.
In general, back in the seventies, a frigate bore the name of Doris Miller. Now higher - a whole aircraft carrier.
No, on the one hand, it's okay. Negroes fought along with everyone on ships and even airplanes. And many of the black Americans performed feats in that war. And they are quite worthy of their names remaining in history.
Of course, it is not for us to judge the Americans by whose names the ships are called. And someday we may have a killer vessel "Mikhail Gorbachev". Hope.
But I think it's the BLM guys. After all, Miller is an iconic figure for the black population. The first black man to be awarded a high military order. Unsurprisingly, Miller has grown from a frigate to an aircraft carrier lately.
But seriously - it's not the name of George Floyd to call an aircraft carrier, right?