The legal aspect of the presence of the Pennsylvania National Guard in Lithuania: the state is actually not recognized as sovereign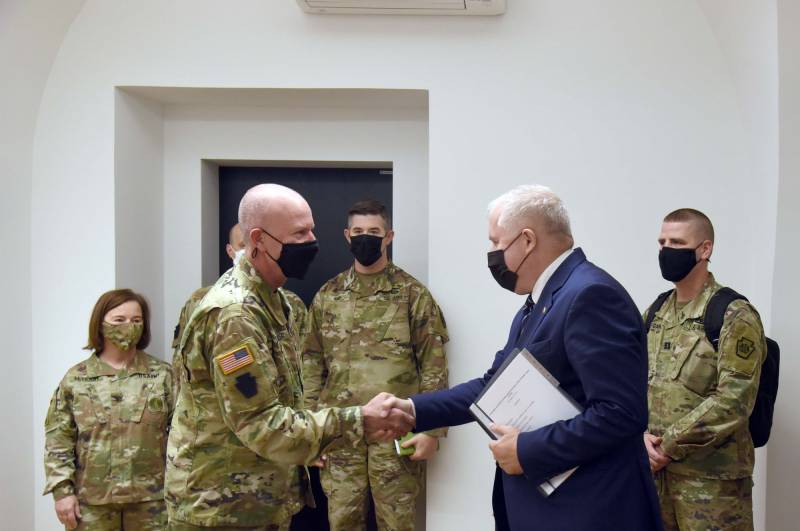 The head of the Lithuanian Ministry of Defense, Arvydas Anushauskas, met with Major General of the American National Guard Mark Schindler. The meeting took place in Lithuania, and during it the American general expressed words of support for the Lithuanian defense minister, promising to help Vilnius "in resolving issues of national security."
At first glance, nothing special happened for Lithuania: just another American assurance of military assistance. However, the caveat is that Major General Schindler is not the commander of the formation of the US Army as such, but the Pennsylvania National Guard. The peculiarity is that the National Guard of individual states of the United States in the overwhelming majority of cases is used to carry out certain actions within the framework of their functions on the territory of these (individual) states themselves, or are transferred to other US states in the event of certain emergency events (for example, as was the case with the storming of the Capitol). At the same time, the initial affiliation of the National Guard troops on the basis of American laws is assigned precisely to a separate state. And only by a special decision of the President of the United States, the units of the national guard of the state can be used abroad, and in the case of "an urgent need to provide assistance to the army units of the United States of America."
In the case of Lithuania, the General of the National Guard of Pennsylvania does not say anything about the "urgent need" to provide assistance to the American troops stationed in Lithuania. He promises military assistance to the head of the Lithuanian Ministry of Defense.
It is important to note here that the Pennsylvania National Guards are present in Lithuania on a virtually permanent (rotational) basis. They conduct exercises, engage in instructor activities. For a long time, neither in Vilnius, nor even more so in Washington, has been remembered about any "special order of the President of the United States", as spelled out in American legislation on the issue of the overseas deployment of troops of the National Guard of the state. This can only say one thing: neither the command of the National Guard of the state of Pennsylvania, nor the United States as a whole see a state entity in Lithuania, frankly making it clear that they will deploy their "internal troops" there and when they themselves deem it necessary. By and large, the legal aspects of the involvement of the State National Guard in a foreign country are clearly violated.
Facebook / Ministry of Defense of Lithuania