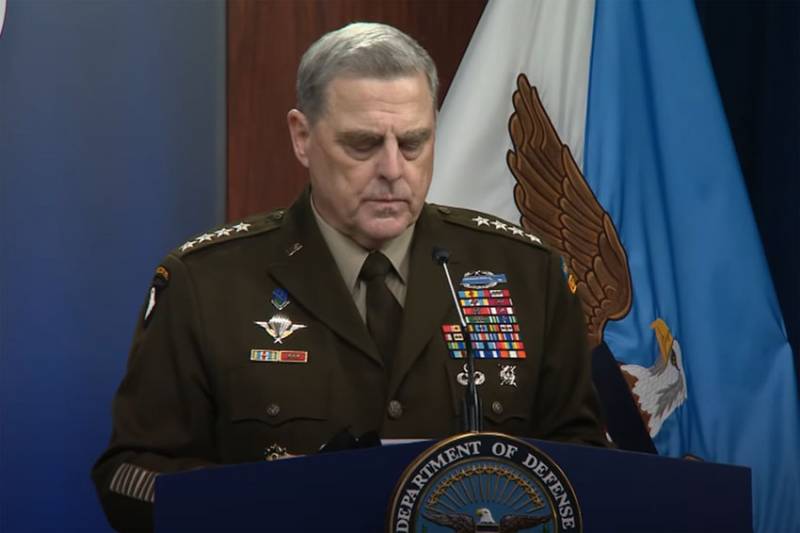 Recently, reports came from the United States that after the failure of Donald Trump in the presidential elections in 2020, American generals seriously feared that Trump, who was not re-elected for a second term, would order a nuclear attack on China. Donald Trump still had a nuclear briefcase in his hands, and this made the American generals pretty nervous about whether the (then still) incumbent president would press the "red button" as an option in retaliation for the election defeat.
At the same time, it turned out that the chairman of the Joint Chiefs of Staff, General Mark Milli, had actually made the incredible. He called Beijing himself and urged his Chinese colleagues to "trust him." The general made it clear that if Trump's "recklessness" goes far, then control over the real nuclear briefcase is in any case with the military, and therefore no pressing the "red button" will happen, that the military will not allow Trump to unleash a nuclear war.
Recall that a few days before the inauguration of the 46th President of the United States Joe Biden, the nuclear briefcase was taken away from the 45th President of the United States, Donald Trump. This proves the fact that the generals are afraid of "reckless" actions on the part of Trump.
Thus, it can be stated that a major American military leader actually transmitted information to the state, which he himself called one of the main enemies of the United States. Not only conveyed, but also stated that he would not carry out the order of the Supreme Commander. Can this be considered as a variant of a military coup in the United States? De facto, no. After all, the situation "was resolved by itself" without the participation of the military. But de jure ...
If Trump really gave the order to start a war against China, it turns out that the US military would not have started it, realizing the danger of the consequences.
Does this mean that in the event of a possible order to start an open and direct war against Russia by any of the American top officials, the American military will also do like Mark Milli? Or have you already done it?
This issue is of concern to many in the United States itself, where General Milli's call to the Chinese Ministry of Defense is being actively discussed.
Mikhail Leontyev reflects on the situation in the program "However":