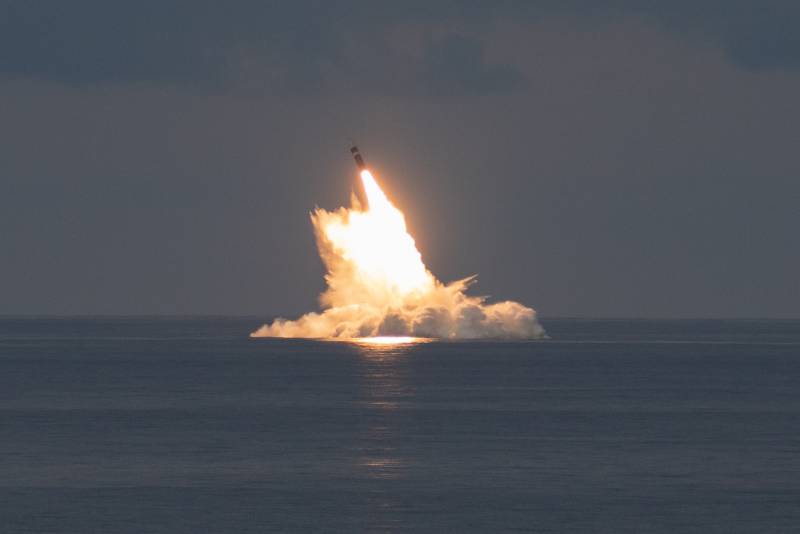 The US Navy conducted another test of the upgraded Trident II D5LE intercontinental ballistic missile. According to the command of the American
fleet
, the tests were found to be successful.
Details of the tests are not given, the US Navy's Twitter page says that the tests took place in the Atlantic Ocean, and that the United States is ready for strategic containment. Judging by the photo, the ICBM was launched from the submarine in a submerged position. Previously, almost all tests were carried out from the Ohio-class SSBN ("Ohio"), which are carriers of data from intercontinental ballistic missiles.
Trident is a family of American submarine-based three-stage solid-propellant ballistic missiles. The missile can carry up to 14 W76 (100 kt) individual warheads or up to 8 W88 (475 kt) warheads. The upgraded missiles can carry W76-2 low-yield warheads (up to 8 kt). The maximum flight range is declared at 12 thousand kilometers.
In total, since 1989, the US Navy has conducted about two hundred launches of these missiles to confirm their combat readiness.
Ohio-class strategic submarines carry 24 Trident II D5 ICBMs. The US Navy has 14 submarines of this class. Of these, eight are in the Pacific Ocean and six are in the Atlantic.