Foreign press on Dostum's mansion: And many Taliban soldiers saw the central water supply for the first time in their lives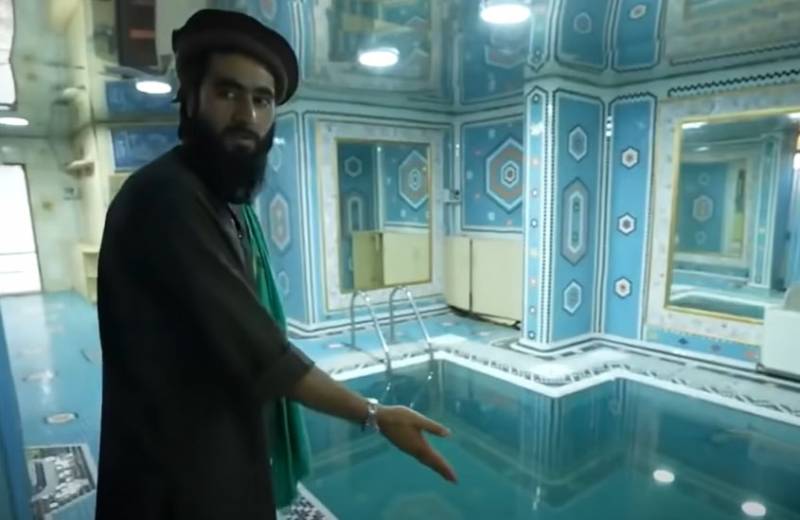 The Taliban (* terrorist organization banned by Russia) distributes property in Kabul. One of the properties is the luxurious mansion of Abdul-Rashid Dostum.
Dostum holds the rank of Marshal of the Afghan Army and served as Vice President of Afghanistan from September 2014 to February 2020. During the years of the Soviet presence in Afghanistan, he commanded one of the divisions of government forces. After the exit of the Soviet military contingent, he supported Najibullah's cabinet. After the collapse of the USSR and the fall of the pro-Soviet government in Kabul, Abdul-Rashid Dostum became the de facto ruler of the state in the state - several regions of Afghanistan swore allegiance to him, and this conglomerate of regions with an Uzbek population (and Dostum himself is an ethnic Uzbek) was even named half-jokingly in his honor - Dustumistan.
The Taliban * used to call and continue to call Marshal Dostum "one of their worst enemies." At the same time, the leadership of the Taliban is deliberately trying to draw the attention of the population to the Dostum mansion, noting that "while the majority of Afghan citizens continued to live in poverty, the country's authorities were bathed in luxury." Now, according to the Taliban, most of the property of Dostum, who is considered to have fled Afghanistan, will be sold, and the money will be used to rebuild Afghanistan and help the poorest segments of the population.
It is noted that now several Taliban field commanders are located in Dostum's mansion, and a Taliban company of up to 150 people is located on the territory of the complex.
According to Qatari news service Al-Jazeera, for most "Taliban marines are an incredible luxury." Material:
There is even a sauna, Turkish hammam, billiard room, birds of paradise. This is an unusual experience for new residents who have sacrificed amenities for rebellion for years, living in the plains, valleys and mountains of rural Afghanistan.
The foreign press notes that some Taliban soldiers saw the central water supply for the first time in their lives. However, all this, it is argued, is not a dream of the Taliban. From an interview with a foreign journalist with one of the Taliban infantrymen:
Islam does not welcome luxurious living. Luxury will come to us if we go to heaven.
This is important from the point of view of understanding the mentality of the Taliban who came to power in Afghanistan.