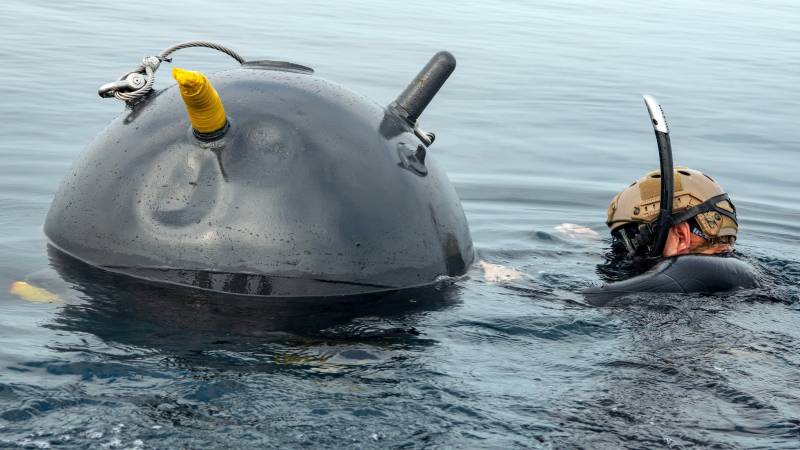 The Ukrainian Naval Forces cannot on equal terms withstand the Russian
the fleet
, "occupying" (as it is interpreted in Kiev) the Black Sea, but there is an effective way to "destroy" Russian ships. Oksana Vrublevskaya, director of the Ukrainian research and production corporation "Cleaver", spoke about this.
Speaking at a roundtable organized by the Center for Army Research, Conversion and Disarmament, Vrublevskaya proposed using mines against Russian warships in the Black Sea. According to her, the Ukrainian fleet is significantly inferior in its combat potential to the Russian one, but all this can be neutralized by the use of mine weapons.
The general director of the Ukrainian corporation believes that mines are the most effective means to combat the Russian Navy, since at a relatively low cost they can disable very expensive ships.
The cost of the mine is $ 30, and the cost of repairing the cruiser is $ 24 million. Therefore, we consider mine weapons to be the most effective
- she said.
Apparently, Ukraine has only two ways to "expel" the Russian fleet from the Black Sea. The first was proposed by the President of Ukraine Volodymyr Zelensky, and it consists in expanding the NATO mission in the Black Sea. According to the Ukrainian leader, the ships of the Western countries will oppose the Russian ones. Now a second method has appeared, which is said to be more efficient and cheaper.
As you can see, representatives of the Ukrainian elites continue to practice inappropriate rhetoric, which has bothered not only the citizens of Ukraine, but also its foreign partners.