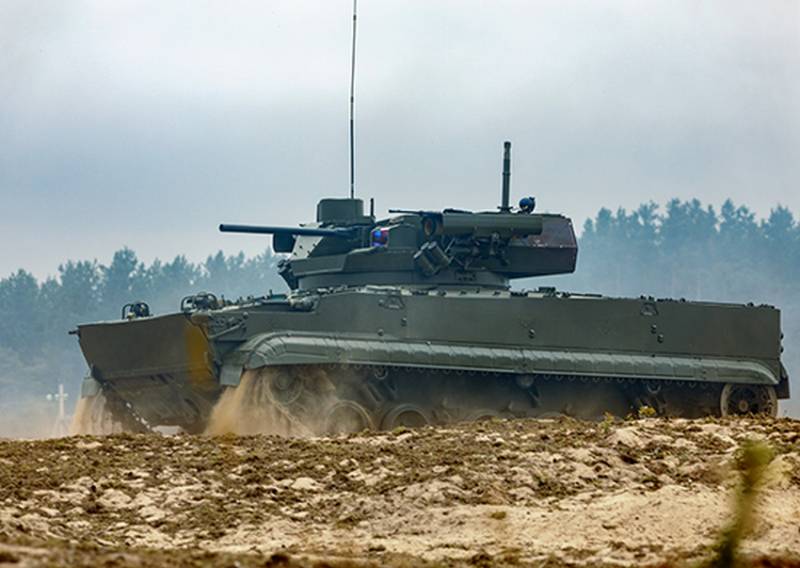 The newest BMP B-19 infantry fighting vehicles with the Epoch combat module were first used at the Mulino training ground during the drawing of the main scenario of the West-2021 strategic exercises. This was reported by the press service of the Ministry of Defense.
According to the report, BMP B-19 carried out fire support of defending units on the main defensive line. In the episode with the defense, an armored group participated in the platoon of the BMP B-19, entered into battle according to the scenario to increase the firepower of the defending units. Taking into account the complex of weapons installed on this BMP, they quite succeeded.
Reportedly, the Epoch combat module is equipped with a 57-mm automatic cannon, Kornet anti-tank launchers and a new Bulat missile system with small-sized guided missiles designed to destroy lightly armored vehicles and enemy firing points.
In addition, the combat module is equipped with an automatic search and recognition system, as well as target tracking. In this case, the system assesses the danger of a particular object and issues recommendations to the crew on the use of weapons.
BM "Epoch" B-19 was developed in the Tula Instrument Design Bureau. Its development was reported back in 2013. In the initial version, it was equipped with a 30 mm automatic cannon, a 7,62 machine gun and an anti-tank complex. In the future, it was decided to replace the weapons complex, primarily the guns. Instead of the 30-mm 2A42 automatic cannon, it was proposed to install an LSHO-57 low ballistics automatic cannon.