Day of the Railway Troops of Russia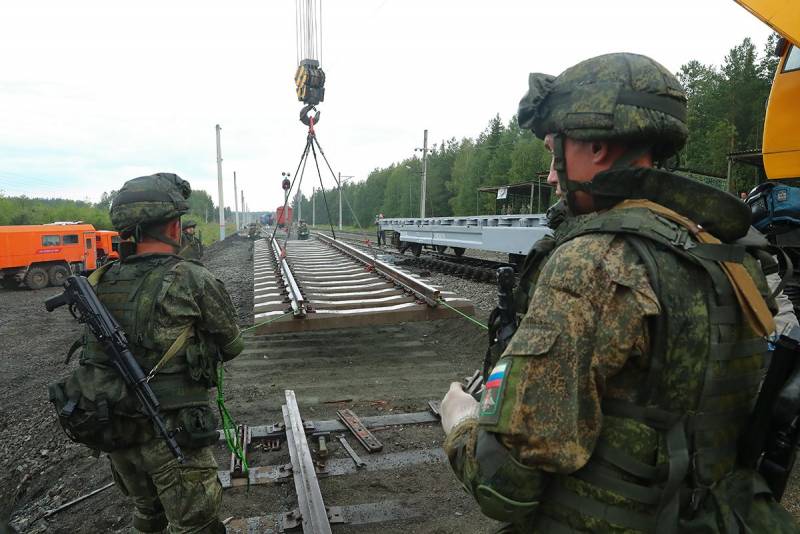 Today, August 6, our country celebrates the Day of the Railway Troops. As a professional holiday, this date was officially approved in 1996. However, the first mention of the aforementioned military formations dates back to August 6, 1851.
Exactly 170 years ago, by decree of Emperor Nicholas I, 17 special companies with a total number of 4340 people were formed, whose duties included ensuring uninterrupted railway communication, guarding bridges and crossings, as well as repairing damaged lines. Later, it was these units that made a tangible contribution to the victory of the Russian Empire in the Russian-Turkish war of 1877-1878.
An equally important mission was carried out by the Railway Troops during the Great Patriotic War. Thanks to their selfless work in cooperation with civilian railroad workers, over 120 km of railway tracks and about 000 bridges have been restored.
Today, this branch of the military continues to faithfully serve its Fatherland, ensuring the safety of existing railways used for military transport and participating in the construction of new ones. In addition, special units are often involved in the elimination of emergencies, disasters and major accidents.
At the moment, the number of the RF Railway Troops, which are subordinate to the Ministry of Defense and are part of the MTO of the RF Armed Forces, is 28,5 thousand people. In the newest
stories
For Russia, this branch of troops has already managed to take part in the Transnistrian conflict, the First and Second Chechen wars, as well as in the Operation in the Kodori Gorge.
Twitter / Ministry of Defense of the Russian Federation