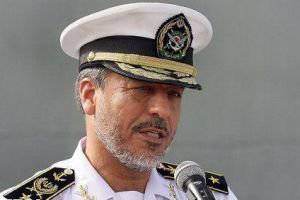 The commander of the Iranian Navy army reported on the success of Iranian sailors who repulsed 130 cases of sea pirates attacking merchant ships of Iran and other countries of the world in international waters.
The commander of the Iranian Navy, Rear Admiral Habibullah Sayari, speaking at the 13 annual meeting of Islamic societies of independent students in Tehran on Tuesday, said that during combat duty and the protection of Iranian and foreign craft in international waters, 130 had been reported to repel attacks from sea pirates .
"During this time, the Iranian Navy escorted and ensured the safety of 1600 ships and tankers," said warlord Syari.
Noting that, as a result of sea piracy violations in international waters, the global economy suffers annually from 7 to 12 billion dollars, the commander of the Iranian Navy said that some powers bury their nuclear waste in the seas, thereby destroying their ecosystem and animals. the world, and these actions, in turn, have strengthened the activities of sea pirates, who are trying to benefit from this.
Rear Admiral Sayari added that lately, sea pirates had acquired speed boats and upgraded their weapons, which undoubtedly did not go without the participation of world powers, with the aim of winning dominance in international waters.
Pointing to the expanding presence of the Iranian Navy in international waters, the commander of the Iranian Navy said that the Iranian Navy, according to the developed and adopted strategy, went beyond the region and is present in remote international waters under the slogan "Power, Peace and Friendship."
Noting that the Iranian Navy is also on duty in the Iranian share of the Caspian Sea, Rear Admiral Sayari said that the Caspian Sea has rich oil deposits and the Iranian Navy has taken the right actions in the framework of Iran's national interests in the region.
"The Iranian Navy army, taking advantage of its vast experience, is ready to protect national interests more than ever, as well as Iran's sea and land borders," the Iranian military leader emphasized.
The detachment of the Iranian Navy ships carrying combat duty in international waters under the motto "Peace and Friendship" play a huge role in ensuring the security of ships, including Iranian ones.