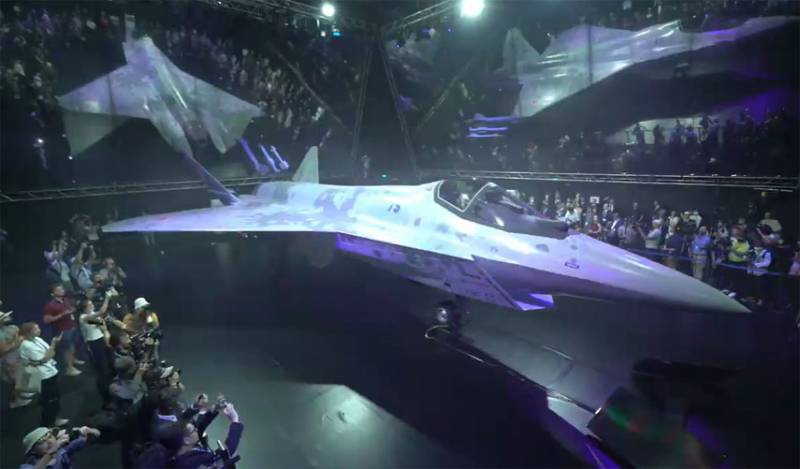 On July 20, in the city of Zhukovsky, Moscow Region, a presentation of the new Russian fifth-generation light fighter Checkmate, created by the Sukhoi Design Bureau, took place. Its name is translated from English as "Check and checkmate".
The American specialized magazine Air Force Magazine published an article by John Tirpak, in which he questioned the Russian origin of the aircraft.
The US press has suggested where Russia borrowed the design of its new lightweight single-engine fighter. Tirpak found the similarity of the Russian novelty with the participants in the American competition for a single strike fighter, which took place in the United States in the 90s. At the same time, according to the author, it reminds by its design features of two projects that were rejected by the commission.
After examining photos and video footage from Checkmate, Tirpak noticed a large air intake under the fuselage. He found it similar to a similar design feature of the Boeing X-32, which participated in the competition, which eventually lost to the F-35 from Lockheed Martin. He found other design details reminiscent of the X-32. In addition, some elements of the Russian aircraft, according to Tirpak, were borrowed from another participant in the American tender - the YF-23 from McDonnell Douglas, to whom the F-22 was preferred.
But on the whole, the author attributed the new Russian Checkmate fighter to the "F-35 family", which has been noticeably expanding lately. This category, according to Tirpak, also includes the Turkish TF-X, the Chinese FC-31 (J-31), the South Korean KF-21 and some other fighters.
Russian developers insist that Checkmate is a unique Russian project.