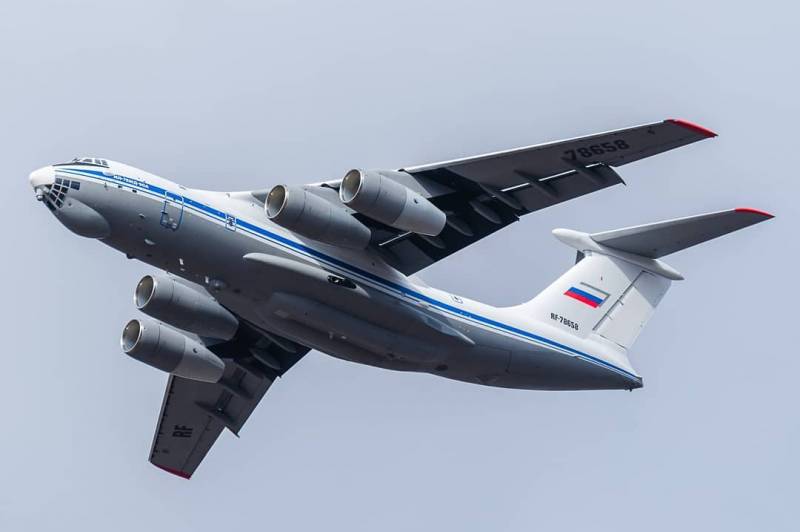 The Ministry of Defense has received a new Il-76MD military transport aircraft. This is evidenced by the infographics posted in the Krasnaya Zvezda newspaper, which is the official print organ of the military department.
The plane was delivered this week as part of the state defense order, there is no additional information on it, a simple statement of fact. The infographic contains a small drawing of the aircraft and the inscription "IL-76MD". Most likely, we are talking about the first military transport Il-76MD built this year, flight tests of which began in early June 2021.
As previously reported, on June 10 this year, the first Il-76MD built this year took off. The roll-out of this aircraft in mid-May was reported by the press service of the UAC, it was stated that this was the first aircraft assembled on the production line. On May 16, the new Il-76MD was transferred to the Aviastar-SP ground station for ground and flight tests.
It is most likely that this aircraft was received by the military, since there were no other Il-76MDs at the test stage.
In total, this year, the Russian Aerospace Forces are to receive five military transport Il-76MD, the construction of the aircraft is still delayed, despite the introduction of the assembly line. Defense Minister Sergei Shoigu said in March that the Defense Ministry is in dire need of new military transport aircraft. According to the minister, in the future, the production of new and modernized Il-76MD should be increased to 20 aircraft per year.