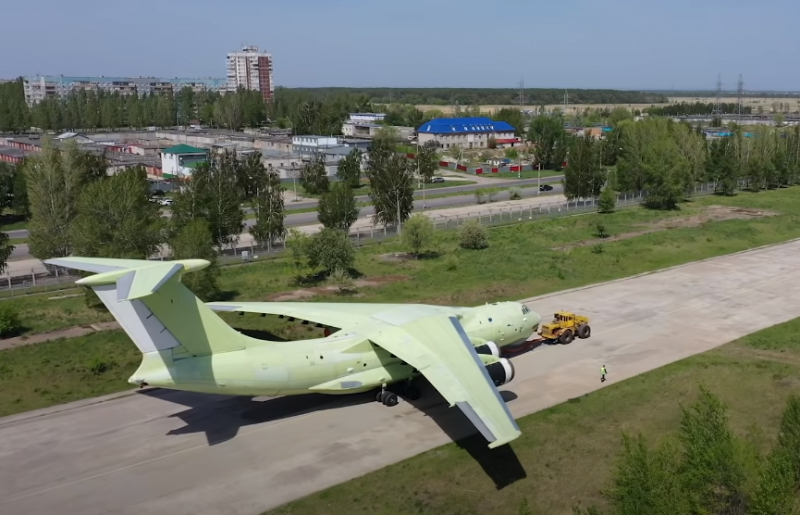 The first military transport Il-2021MD-76A built in 90 began flight tests. The new plane took off from the factory airfield Ulyanovsk-Vostochny. According to the spotters, the first flight took place on June 10, there is no official information about the tests.
According to the bmpd blog, the first Il-76MD-90A built this year took off. The rollout of this aircraft in mid-May was reported by the press service of the UAC, it was stated that this was the first aircraft assembled on the production line. On May 16, the new Il-76MD-90A was transferred to the Aviastar-SP ground station for ground and flight tests.
As the blog writes, despite the introduction of the production line, the production of military transport Il-76MD-90A for the Ministry of Defense "stalls", the planes are delayed. Only the first plane took off this year, while by the end of the year the Aerospace Forces should receive five new aircraft. In March of this year, Defense Minister Sergei Shoigu announced that the military department this year will receive five new heavy military transport aircraft Il-76MD-90A, but they wanted to get all ten. According to the minister, in the future, the production of new and modernized Il-76MD-90A should be increased to 20 aircraft per year.
To date, Aviastar-SP has built only eight (including new) military transport aircraft out of 39 ordered by the Ministry of Defense under a contract signed back in 2012. The delivery of the Il-76MD-90A is delayed. In May 2020, the Ministry of Defense renewed the contract with Aviastar-SP on new terms. Now, under the old contract in 2012, the plant will now commission a total of 13 Il-76MD-90A aircraft, and from 2021 a new contract for the supply of 14 such aircraft will come into force until 2028.