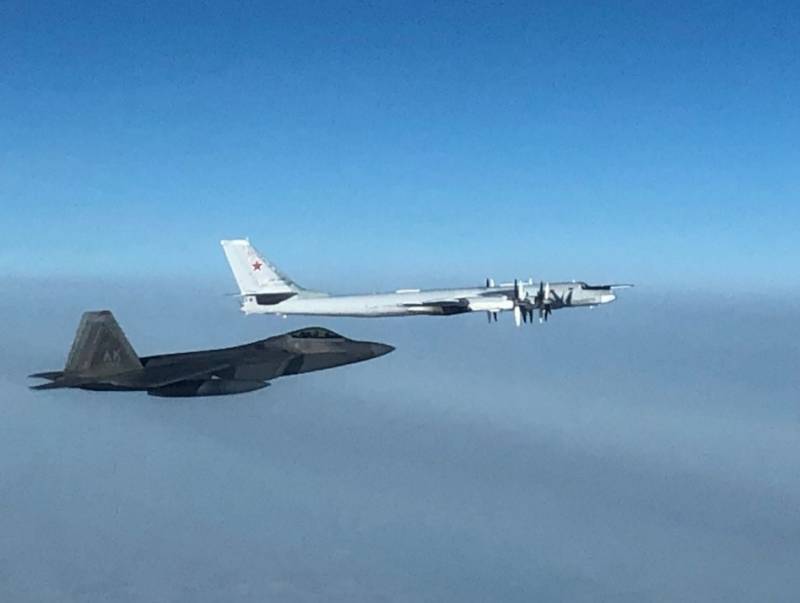 The US Air Force has complained about Russian strategic missile carriers flying near Alaska. As it turned out, the aircraft of the Russian Aerospace Forces caused an excessive load on the American F-22 fighters, which are very expensive to maintain. MilitaryWatch writes about it.
Russia has significantly increased the number of flights off the coast of America, especially in Alaska, the US Air Force said. To counter Russian aircraft, the fifth generation F-22 fighters deployed at Elmendorf-Richardson airbase have to be lifted into the air. The fact is that it is the most efficient fighter in the US Air Force in the region.
The flights of Russian planes force the command to keep the F-22 in constant combat readiness, lift them into the sky to "intercept" and prepare them on the ground. Given that these are not the "cheapest" aircraft in the US Air Force, their maintenance and combat readiness is very expensive.
Russia, the Americans say, is increasingly sending turboprop Tu-95MS to the US coast - ideal for long-term patrols and much cheaper to operate. And other aircraft of the Russian Aerospace Forces, for example, the anti-submarine Tu-142, which appear off the coast of the United States, are again forced to lift the F-22 into the air.
All hope is with the command of the American Air Force on the F-35, which is being deployed in Alaska. Compared to the F-22, the operation of the F-35 is significantly cheaper, but they are still far from combat readiness. So for now it is necessary to burn the resource of the "very expensive" F-22s.