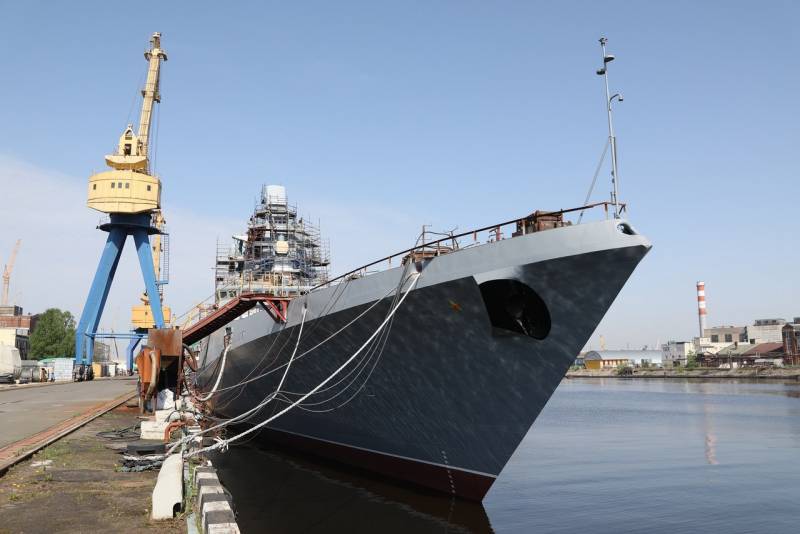 The second serial frigate "Admiral Golovko" of project 22350 is being prepared for the beginning of mooring trials. This was reported by the press service of the Severnaya Verf shipyard.
According to a press release received by Voennoye Obozreniye, the ship is completing work on the alignment of gearboxes, turbines, main diesel engines and shaft lines. The installation and electrical installation of the bow and stern main switchboards has been completed, the power supply has been launched. The preparation of the ship's service rooms is in progress.
According to previously announced data, mooring trials of the ship will begin in June 2021, the crew will move in at the end of August, and the beginning of the mooring will begin in January 2022. The transfer of the frigate is scheduled for 2022, it will become part of the Northern
fleet
.
"Admiral Golovko" was laid down on February 1, 2012. Unlike the lead Admiral Gorshkov and the first serial Admiral Kasatonov, which have Ukrainian gas turbine units (GTU), the Admiral Golovko has a completely Russian power plant. According to open information, the main power plant of Project 22350 frigates is a GTDA with a total capacity of 65 thousand liters. from. and diesel generators with a total capacity of 4 thousand kW.
The frigate is named in honor of Arseniy Golovorovich Golovko (1906 - 1962), a sailor - a surface naval commander of the Northern Fleet during the Great Patriotic War.