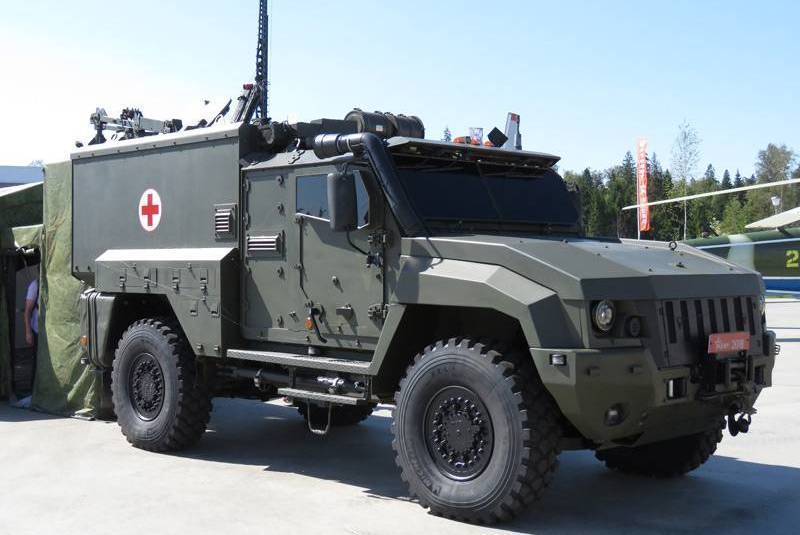 The Ministry of Defense has begun a massive purchase of Linza sanitary armored vehicles, created on the basis of the Typhoon-K armored car. The decision was made based on the results of military trial operation.
The first deliveries of Linza armored ambulances to the troops were reported back in 2019. The armored cars were supplied for trial operation to the medical units of the Southern and Central Military Districts, including Syria and the 201st military base in Tajikistan.
This spring began mass deliveries of armored ambulances to the troops. The rate of re-equipment of medical units with a new sanitary armored car will depend on the release of equipment within the framework of the state defense order. As they write
"News"
with reference to the military department, this year "Lenses" will become part of the special purpose medical units of the Ministry of Defense in the Western Military District. And in the Central Military District, they will replenish the medical battalions of several motorized rifle brigades.
The Linza sanitary armored vehicle is based on the Typhoon-K 4X4 chassis, it has a double cabin and a sanitary compartment that allows evacuating the wounded from the battlefield. The compartment has a capacity of four people lying down, or six people in a sitting position. A combined option for transporting the wounded is possible - two lying and three sitting. The vehicle has a smooth ride and can deliver the wounded over rough terrain as comfortably as possible.
The armored car has a third class of protection, provided by a combination of ceramic armor and armor steel. Mine protection withstands blasting up to 8 kg in TNT equivalent under the wheel. At the same time, the destroyed wheel provides up to 50 km of driving on rough terrain.
The vehicle is equipped with various medical equipment, including devices for pulling the wounded out of hatches and dragging them out, shields for evacuation with spinal injuries, etc.
Five armored cameras are installed on the armored car, providing all-round visibility for the crew. It is possible to install a remotely controlled module with a machine gun, which is controlled by the second crew member through the remote control located in the cockpit.
It should be noted that their own ambulance transport is being developed for the landing force and the marines within the framework of the Rakita ROC. The work must be completed by November 10, 2023.