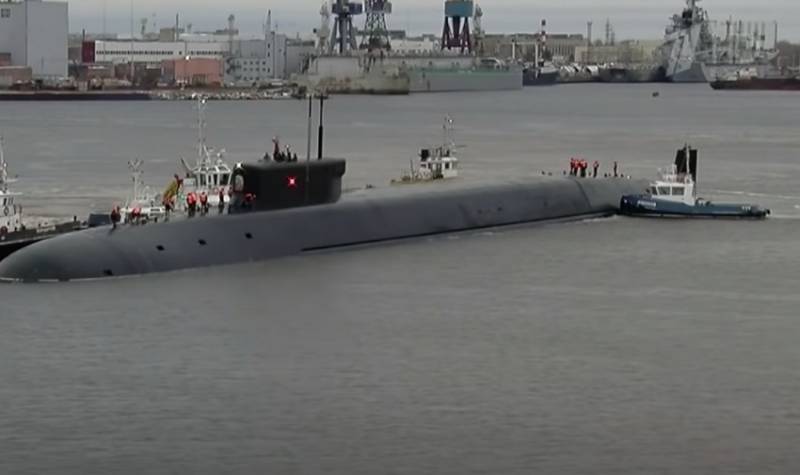 The first serial nuclear-powered strategic missile cruiser of the Borey-A project, Knyaz Oleg, has begun sea trials. The first sailing took place earlier than planned.
Submarine missile carrier, which this year should be part of the Russian
fleet
, began its first trip to the sea ranges of the Northern Fleet as part of the tests that had begun. Moreover, the submarine left even earlier than planned. Earlier it was reported that the "Prince Oleg" will go to sea in early June, and not at the end of May, as it happened.
According to a source in the OPK, whose words are quoted by
TASS
, the launch of the missile carrier for testing took place on Sunday, May 30 in the evening. There is no information about the test program at this stage.
According to the information announced earlier, the Knyaz Oleg APRKSN will become part of the Russian Navy in the fourth quarter of this year, that is, not earlier than October. Until that time, he will have to go through the entire test program, including the Bulava launches.
Sevmash is currently building three more submarine missile carriers Borey-A - Generalissimo Suvorov (laid down on December 26, 2014), "Emperor Alexander III" (laid down on December 18, 2015) and "Prince Pozharsky" (laid down December 23, 2016). Two more "Boreya-A" - "Prince Potemkin" and "Dmitry Donskoy" are planned to be laid this year.
Four Boreas are in service with the Russian Navy, of which three projects 955 (Borey) of the 4th generation are strategic missile cruisers Yuri Dolgoruky, Alexander Nevsky and Vladimir Monomakh, as well as one submarine missile carrier of the modernized project. " Borey-A "-" Prince Vladimir ".