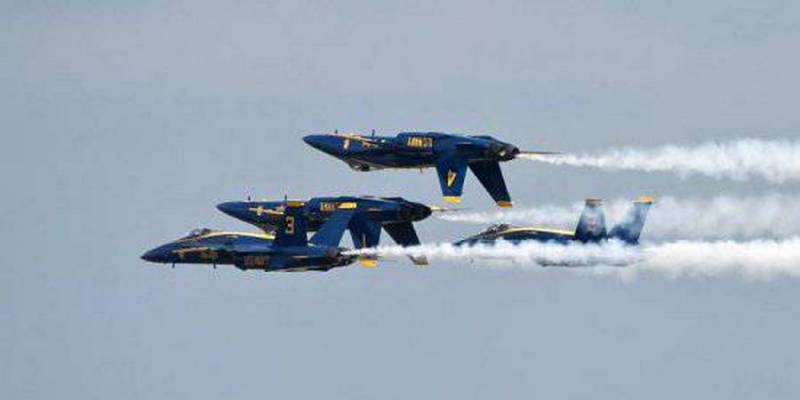 A video of the flight of the American aerobatic team of the US Navy Blue Angels appeared on the Web, which caused a comparison of the aerobatic skills of the Americans with the Russian aerobatic teams. A video with the performance of the aerobatic figure "Brilliant 360" was put up for discussion.
The video in question was posted on the Fighterbomber portal. The video description states that the distance between the planes of the aerobatic team during the execution of the "Diamond 360" figure is only 30-40 cm, and only this aerobatic team performs it. At least, it is claimed, "no one else flies" at that distance.
This allegation sparked controversy over the Russian aerobatic teams "Russian Knights" flying the Su-30SM and Su-35S and the "Swifts" flying the MiG-29. If you do not take into account the statements of Ukrainian trolls like: "Russians do not know anything at all," the majority opinion is inclined to believe that comparing the skill of American pilots and Russian pilots is not entirely ethical, since aerobatic teams have different planes and different figures that they show in their programs.
The US Navy Blue Angels Demonstration Squadron has been in existence since 1946 and is the oldest demonstration aerobatic group in the United States Army. From 1986 to 2018, the group used F / A-18 Hornet aircraft (in modifications A, B, C and D), after which they switched to F / A-18E / F Super Hornets. Of these, nine singles and two doubles. All aircraft have been specially upgraded to meet the requirements of the aerobatic team.