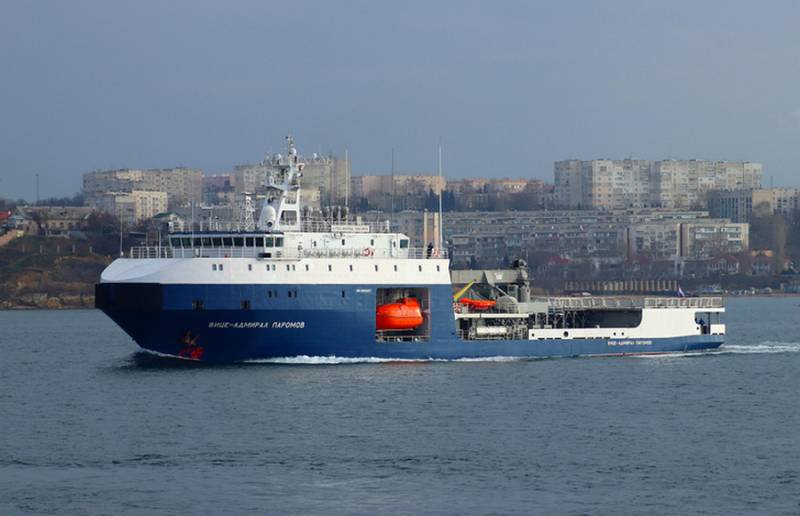 The Black Sea Fleet was replenished with a small sea tanker "Vice-Admiral Paromov" of project 03182. The ceremony took place on May 29 in Sevastopol near the Mine Wall.
The new tanker became a part of the Chernomorskoye support vessels detachment
fleet
... He is the lead in a series of four tankers of this project. The project itself was developed by JSC Zelenodolsk Design Bureau. Construction of "Vice-Admiral Paromov" was carried out at the Volga shipyard in Nizhny Novgorod under a 2016 contract with the Ministry of Defense for two tankers for the Black Sea Fleet. Two more are being built by Vostochnaya Verf for the Pacific Fleet.
The small sea tanker "Vice-Admiral Paromov" was laid down on 01.09.2016/20.12.2018/2020, launched on XNUMX/XNUMX/XNUMX, in August XNUMX it was towed by inland waterways to the Black Sea, where the equipment was completed at the Sevastopol Perseus plant. In November last year, he began to undergo sea trials.
Ice-class tanker Arc4, full displacement - 3500 tons, deadweight - 1560 dwt, length - 78,8 m, width - 15,4 m, draft at full load - 5 m. Crew of 24 people with the possibility of accommodating eight more people. Has a platform for a Ka-27 class helicopter.
The main purpose is the transportation and transfer of dry and liquid cargo, supplying ships with cargo in other containers, garbage collection, patrolling, rescue operations, removing emergency vessels from the shoals and reefs and towing, performing the functions of a fire vessel, etc., etc. ...
The tanker was named in honor of Vice Admiral Rudolf Vasilyevich Paromov (1937 - 1999), the former commander of the 8th operational squadron of the USSR Navy (Indian Ocean), and head of the USSR / Russian Navy Auxiliary Fleet Directorate.