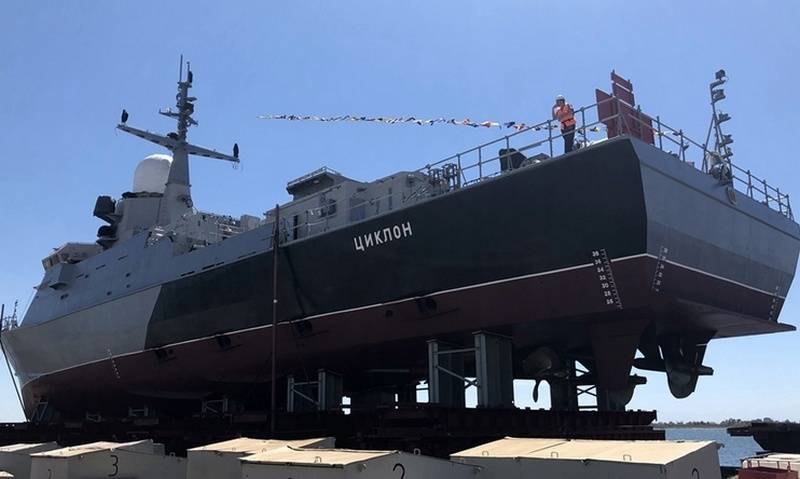 The Black Sea Fleet will be strengthened by small missile ships (MRK) of project 22800. By the end of the year,
fleet
it is planned to host two "Karakurt".
According to the Ministry of Defense, the Black Sea Fleet will include the Cyclone and Askold MRKs. Both ships are being built at the Zaliv shipyard in Kerch, but are at different stages. If "Cyclone" was launched in the summer of 2020, completed and is currently undergoing tests, then "Askold" is only being prepared for launching. A third RTO for the Black Sea Fleet, called Amur, is being built there, but it will be launched only in 2022. The delay in the construction of the ships has nothing to do with the "Zaliv" itself, it's all about the supply of power plants.
As reported
"News"
With reference to sources in the military department, the crews for the RTOs have been formed, after the transfer they will become part of the 41st brigade of missile ships of the Black Sea Fleet.
RTOs of this project have a length of 67 meters, a width of 11 meters and a draft of 4 meters. Displacement - about 800 tons, cruising range - up to 2500 miles, autonomy - 15 days. The main armament is one UKKSK (universal ship complex) 3X14 missile launcher on the 8 KR Caliber, one 76-mm AK-176MA gun mount, ZRAK Panzir-M, two 14.5-mm or 12,7-mm machine-gun mounts MTTPU.
According to the plans of the Russian Navy, at least 18 MRKs of project 22800 should be included in the Russian Navy, however, the construction of ships is slowed down due to insufficient production rates of M507 diesel engines installed on MRKs of this project.