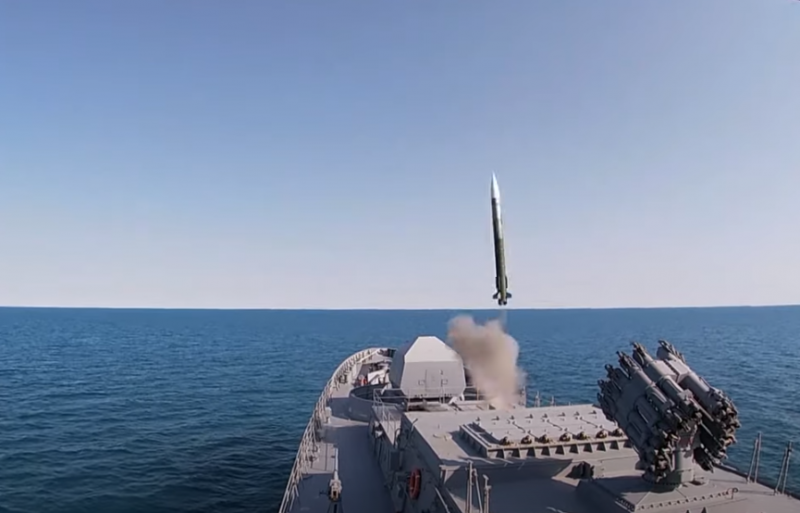 In the waters of the Black Sea, exercises were held with the involvement of the frigate "Admiral Grigorovich" and two coastal complexes. During the exercise, the frigate repelled a missile attack by firing the Shtil anti-aircraft missile system. The press service of the Black Sea
fleet
.
According to the exercise scenario, the Bal mobile coastal missile system and the Utes stationary coastal complex launched a missile attack on the Admiral Grigorovich Black Sea Fleet frigate. In turn, the ship's crew was tasked with repelling the attack on the ship. The objectives of the exercise have been achieved, according to the headquarters of the Black Sea Fleet.
Thus, Bal and Utes launched Uran and Progress missiles at the ship, respectively. The frigate Admiral Grigorovich detected air targets, took them for escort, and then hit them with the Shtil anti-aircraft missile system.
It is noted that the exercises were conducted in several stages, during which more than 10 missile launches were made from the ship and ground complexes. The exercise area was closed to navigation in advance.
It should be noted that such exercises are not the first for the frigate's crew, and for the Utes DBK, too. Last year, the coastal complex already launched the Progress missile at the Admiral Grigorovich, it was safely intercepted by the Shtil anti-aircraft complex. This year Bal has been added to the Cliff with its Uranus rocket.
"Admiral Grigorovich" is the lead frigate of the sea zone in a series of three ships of Project 11356, built for the Black Sea Fleet. Transferred to the Russian Navy on March 11, 2016. It has a displacement of about 4 thousand tons, a speed of 30 knots, and an autonomy of sailing for 30 days. The frigate is armed with Kalibr-NK cruise missiles, the Shtil-1 self-defense missile system, an A-190 gun mount of 100 mm caliber, anti-aircraft artillery, a rocket launcher, torpedoes, and can be carried by a Ka-27 (or Ka-31) deck helicopter. Crew - 180 people (including 18 officers).