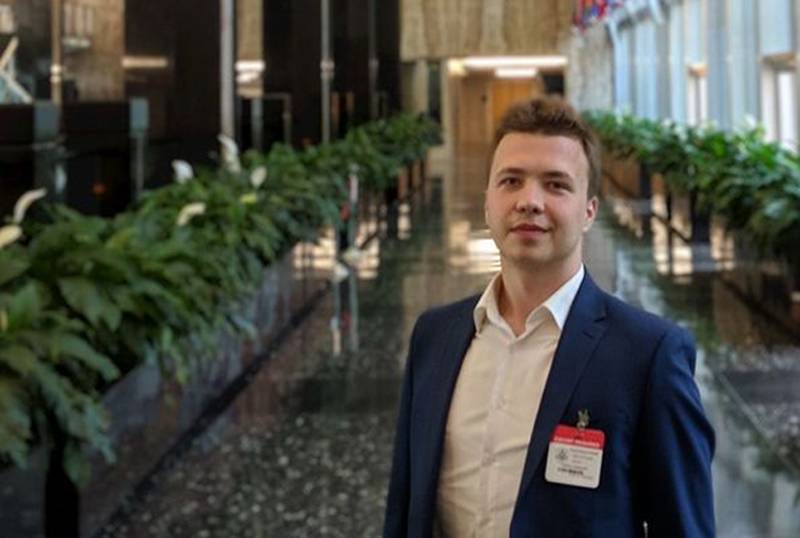 In the photo - Protasevich at one of the international events in Europe
Some details of the detention of ex-editor-in-chief of the opposition Belarusian Telegram-channel Nexta Roman Protasevich in Minsk appear. Let us briefly recall that one of the founders of this channel, which coordinated almost all mass protests in Belarus, was on the Belarusian wanted list and was detained the day before by Belarusian law enforcement officers.
The TV report of Belarus says that the police of the Republic of Belarus learned about Protasevich's presence in Minsk after the landing of the airliner, on board of which they were looking for a bomb after reports of its possible presence on the plane.
State channel "Belarus 1" reports that the photo with Roman Protasevich at the airport in Minsk was taken by his companion. She sent the photo to Belarusian activist Anton Motolko, who posted a photo of Protasevich on a bus on the territory of the Minsk airport on the network.
From the message of Belarusian TV reporters:
The police reacted to the publication of the photo from the Minsk airport. The arrest of Protasevich was carried out on the basis that he was wanted in the case of incitement to a coup d'etat in the Republic of Belarus. Protasevich was not included in the list of persons who are prohibited from entering the territory of Belarus.
If the Belarusian channel announced reliable information, then Protasevich and his supporters should have a lot of questions both to his companion and to the aforementioned oppositionist Motolko.