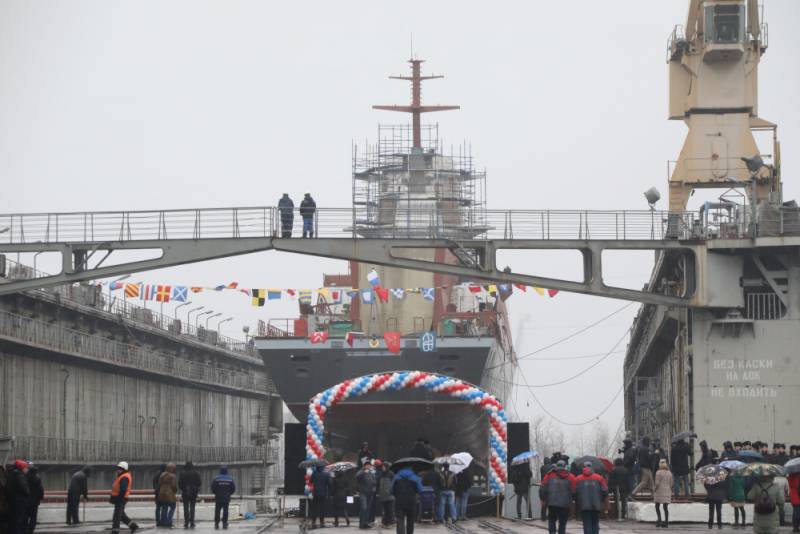 Corvette "Zealous" of project 20380, being completed at the "Severnaya Verf", is being prepared for the arrival of the crew. The ship continues to equip living quarters and premises. This was reported by the press service of the USC.
On the corvette, which is being completed on the water, electrical installation and equipment installation is being completed, and ship systems are being installed. At the same time, living quarters are being equipped, and galley equipment is being installed. The ship is being prepared for the introduction of the crew, which is currently undergoing training.
The transfer of the corvette to the Navy is planned before the end of the year, the ship should become part of the Black Sea
fleet
, and not the Baltic, as previously planned.
Zealous is the fifth corvette of Project 20380 built at Severnaya Verf. Laid down on February 20, 2015, on October 4, 2017, the formation of the hull was completed, on March 21, 2018, the loading of engines and gearboxes into the forward engine room was completed. Launched from the boathouse on December 25, 2019, launched on March 12, 2020.
Displacement standard 1800 tons, total 2220 tons. The length is the largest 104,5 meters, width 13 meters, maximum draft 7,95 meters. Maximum speed 27 knots. Cruising range up to 4000 miles.
The main armament is the Uran 2X4 anti-ship missile system, and the Caliber or Onyx from the eighth ship. Also in service with the Redut air defense system, the Pak-NK anti-submarine system, the A-100 190-mm gun mount, two 14,5 mm machine-gun mounts and two DP-64 anti-sabotage grenade launchers. There is a hangar for the Ka-27 helicopter.