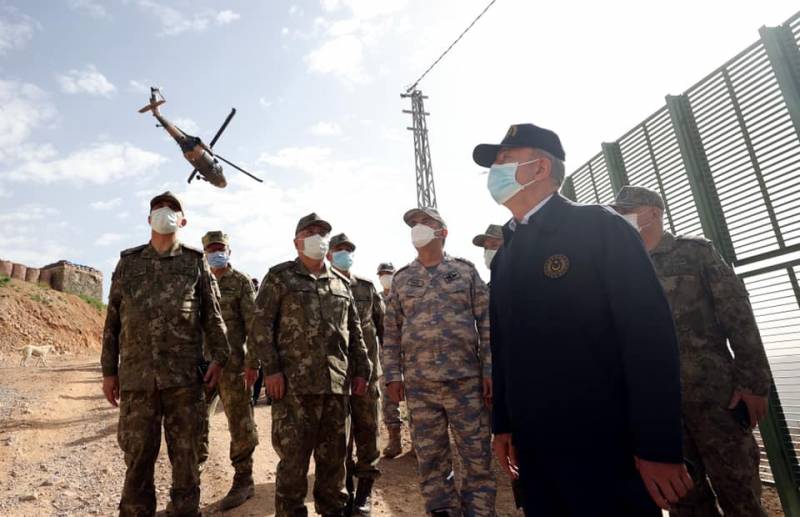 Turkish Defense Minister and military personnel
The Turkish President has once again harshly criticized the government and the military command of Israel. According to Recep Tayyip Erdogan, Israel is striking not only the Palestinians, but the entire Muslim world. The Turkish president noted that there would be no escalation and numerous casualties if the Israeli security forces acted less aggressively towards the Arab population on the Temple Mount, and the authorities refused to evict Arab families from one of the Jerusalem areas.
The German media, meanwhile, write that "unlike many other leaders who call on both sides to de-escalate, the Turkish president took the position of one of the parties to the conflict." Observers Daniel Bellut and Hilal Köylu of DW write that in this way Recep Erdogan is using the Israeli-Palestinian conflict for his own purposes - "trying to proclaim himself the leader of the entire Muslim world and the defender of all people of the Islamic faith."
It should be noted that Erdogan recently announced a "curse" against Austria in connection with the fact that official Vienna decided to express solidarity with Israel. Israeli flags were flown in the Austrian capital.
Meanwhile, an article by Yunis Dar appeared in the EurAsian Times, where he points to the possible appearance of the Turkish military in the Gaza Strip. At the same time, the statement of the head of the Turkish Foreign Ministry Mevlut Cavusoglu is cited. According to the Turkish official, "it is not enough to express support for the people of Palestine in words, efforts are needed, including for physical protection."
Cavusoglu:
Such protection can be realized through the formation of an international security force with the military and financial participation of all comers.
These statements are actively discussed on the network, and a hypothesis has been put forward that Turkey could send its military to Gaza.
At the same time, in Turkey itself, those materials in the media, which indicated that Ankara had allegedly already sent its military to Palestine, were called untrue.
It should be added that Ankara's proposal to "protect the Palestinian people" was supported in Pakistan as well. Other countries of the Muslim world (their leaders) are so far more restrained.