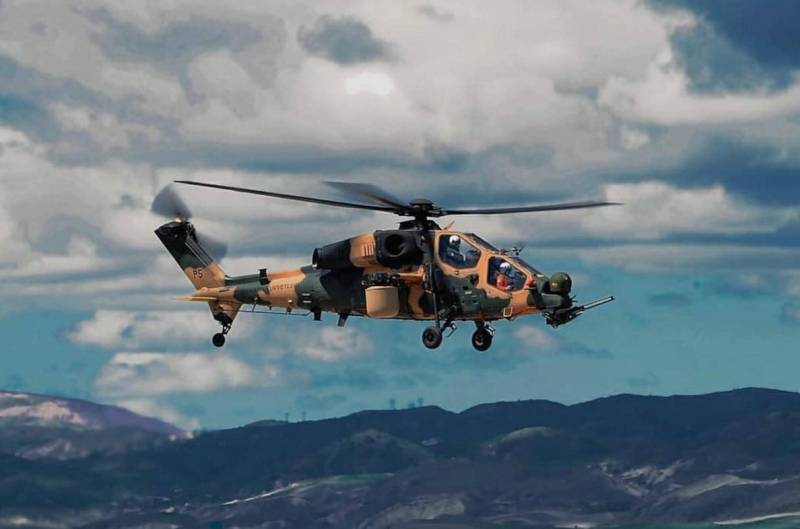 The Philippines will receive six Turkish TAI T129 ATAK attack helicopters out of eight planned for delivery. Ankara received a corresponding permission from Washington.
The United States has allowed Turkey to supply the Philippines with six T129 ATAK attack helicopters manufactured by the Turkish state-owned aircraft manufacturer Turkish Aerospace Industries (TAI). At the same time, the supply of these helicopters to Pakistan is still blocked by the Americans.
The thing is that American LHTEC T129-800A turboshaft engines are installed on T4 ATAK helicopters, and the United States has banned their re-export to third countries. Moreover, the ban was introduced after Turkey purchased the Russian S-400 air defense systems. Thus, Washington "punished" the Turks who did not want to abandon the Russian anti-aircraft system.
The Americans thwarted two contracts entered into by Turkey in 2018 for the supply of eight T129 ATAK helicopters to the Philippines and thirty to Pakistan, simply by blocking these deals, refusing to issue a license to re-export LHTEC T800-4A engines.
According to the bmpd blog, although the US State Department has authorized the supply of six T129 ATAK helicopters to the Philippines, the Pakistani contract is unlikely to be implemented, as it must be approved by the US Congress, and strong anti-Turkish sentiment reigns there.
Attack helicopters of the T129 type are a licensed copy of the Italian AW129 Mangusta, developed in the 1980s. The T129 ATAK is equipped with two LHTEC CTS800-4A engines, its maximum speed is 270 km / h, and its combat radius is 561 km. The maximum height (ceiling) is 6 km. The helicopter is armed with a stationary three-barreled automatic cannon of 20 mm caliber and suspension mounts for various types of missiles.