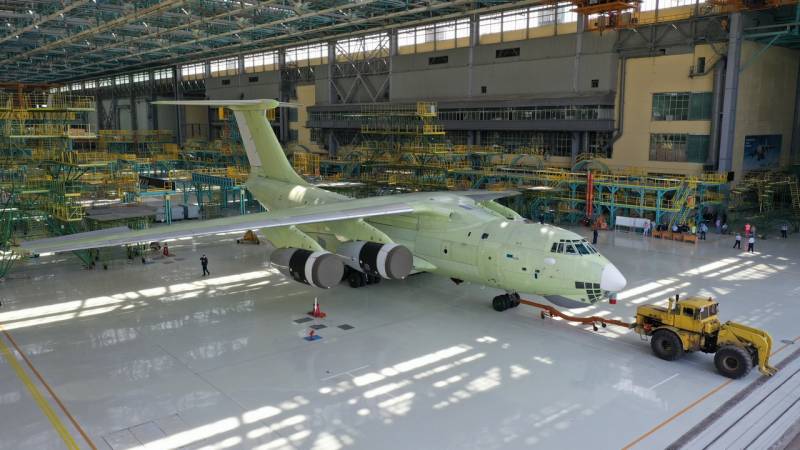 The Ulyanovsk Aviastar-SP JSC handed over for testing the first military transport aircraft Il-76MD-90A assembled on the production line. This is reported by the press service of the UAC.
The first IL-76MD-90A, assembled on the production line, was transferred to the flight station for ground and flight tests.
The company reported that the new production line launched at Aviastar-SP has made it possible to reduce the labor intensity of the aircraft assembly process by 38%. The line itself consists of ten stations for docking of individual elements, installation of power plants and aircraft systems. It is assumed that the introduction of the new assembly technology will make it possible to assemble more than 10 aircraft per year, which is what the Russian Ministry of Defense is seeking.
The start of the installation of the largest automated assembly line in Russia at Aviastar-SP was announced in November 2018. It was said that the line includes two stations, at each of which the fuselage, wing and tail sections are automatically docked, as well as six automated stations for the installation of systems, power plant and workshop processing. It is possible that an error crept into the primary information and the automated stations were not six, but eight, judging by the KLA report about 10 stations on the line.
In March of this year, Defense Minister Sergei Shoigu announced that the military department this year will receive five new heavy military transport aircraft Il-76MD-90A, but they wanted to get all ten. According to the minister, in the future, the production of new and modernized Il-76MD-90A should be increased to 20 aircraft per year.
The delivery of the Il-76MD-90A is delayed. In May 2020, the Ministry of Defense renewed the contract with Aviastar-SP on new terms. Now, under the old contract in 2012, the plant will now commission a total of 13 Il-76MD-90A aircraft, and from 2021 a new contract for the supply of 14 such aircraft will enter into force.