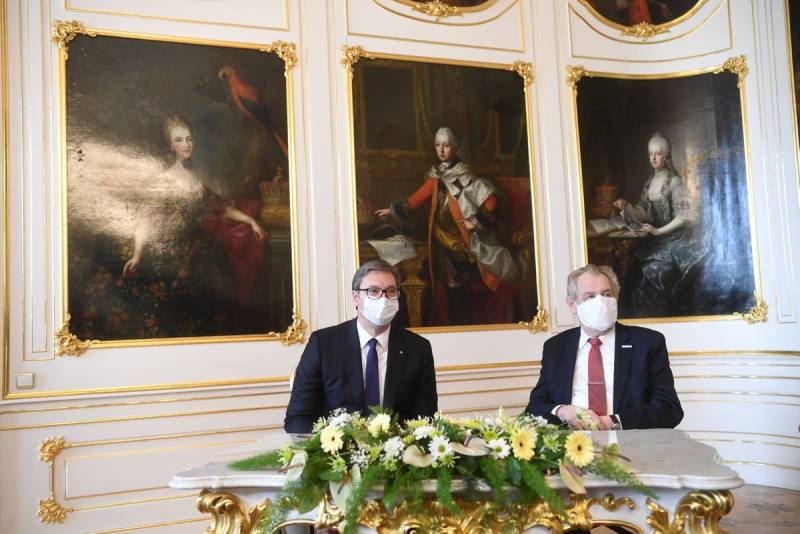 The press service of the President of the Czech Republic Milos Zeman confirms the information on the topic of NATO bombing, which was raised during a meeting with his Serbian counterpart Aleksandar Vucic. Zeman's spokesman notes that the Czech president, in the presence of President Vucic, made words of public apology for the fact that the North Atlantic military bloc in 1999 bombed Belgrade and other cities in the country that was then called Yugoslavia. Let us recall that the bombings were carried out from March to June 1999 and were motivated by Washington, London and Brussels, allegedly by the commission of "the Serbian regime and military personnel of war crimes in the province of Kosovo."
Zeman during Vucic's visit to the Czech Republic:
I apologize to the entire Serbian people for the events that took place in 1999, for the bombing of the country's territory, which led to grave consequences.
According to Zeman, he greatly appreciates Vucic's visit to Prague and recalls his visit to Belgrade.
Zeman:
I really hope that before the end of my presidential mandate, I will be able to see this beautiful city again.
An important nuance in this situation is that the Czech Republic was admitted to NATO on March 12 - less than two weeks before the start of NATO attacks on Belgrade. However, Milos Zeman, despite the fact that the role of the Czech Republic in those events was still not the largest, found the courage (unlike most other leaders of the countries of the Western military bloc) to admit guilt and publicly apologize.
Alexander Vucic, in response to the words of Milos Zeman, thanked him, noting that from now on the Serbian people will consider the people of the Czech Republic truly fraternal.
Serbian President commenting on Zeman's statements:
The words of the Czech President will be included in textbooks. it
historical
moment. This is a bold decision by the Czech president.
Vucic added that before the meeting with Zeman, he did not know anything about the intentions of the President of the Czech Republic to apologize to the Serbs for the decisions taken by NATO countries.