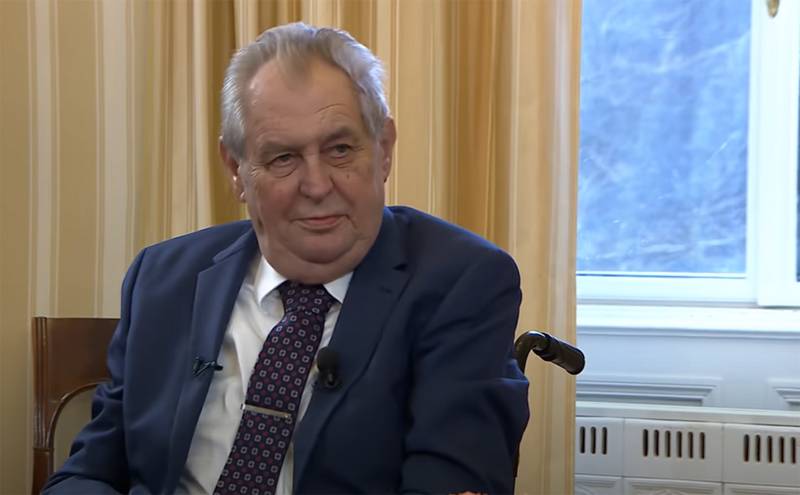 President of the Czech Republic Milos Zeman continues to question the version of the government of the country that the explosions at a military warehouse in the town of Vrbetice are connected with the activities of Russian intelligence agents. Let us remind you that a few weeks ago the Czech authorities accused Russia of allegedly blowing up warehouses by "GRU agents Petrov and Boshirov", having entered the Czech Republic with fake passports. This is despite the fact that the explosions took place 7 years ago and all this time the Czech government was silent about the "fault of Russia".
According to Czech President Milos Zeman, he speaks out on the basis of all possible versions of what happened in the ammunition depots. Zeman noted that the head of the Ministry of Justice, Maria Beneshova, spoke about three versions, including a version about the connection between the explosions in order to hide the lack of ammunition.
Zeman:
Warehouses in Vrbetica could explode due to attempts to hide the lack of ammunition. But today the government does not even want to consider this version.
Milos Zeman added that in connection with the choice by the government of the country of the only version as a working version - "the involvement of Russian intelligence" - Moscow for the first time in
stories
included the Czech Republic in the list of unfriendly states. At the same time, the Czech president believes that such a decision by the Russian authorities is erroneous.
Recall that at the moment, Russia and the Czech Republic, in a reciprocal format, have declared the overwhelming majority of employees of the embassies in Prague and Moscow persona non grata. This significantly reduced the level of diplomatic contacts between the two states.
It is worth noting that the following fact was revealed earlier: prohibited ammunition was also stored in warehouses in Vrbetica. These are anti-personnel mines, the use of which is prohibited by the law of the Czech Republic itself.