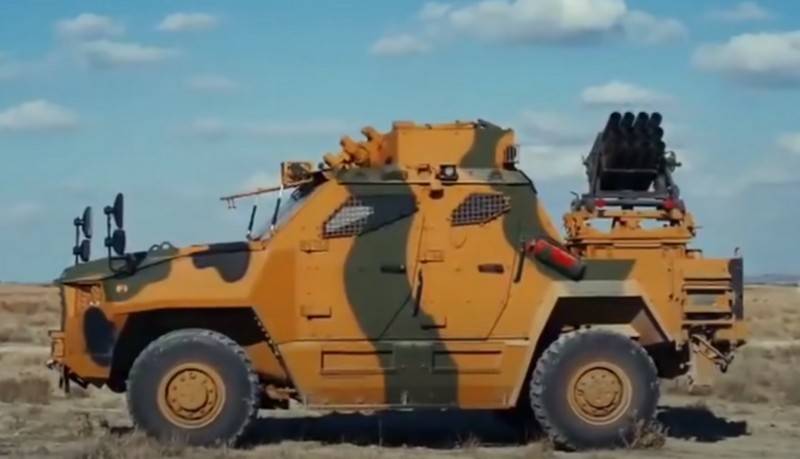 Turkey has developed a new multiple launch rocket system based on the Vuran armored car. The head of the Turkish Defense Industry Directorate Ismail Demir announced the new mini-MLRS on Twitter.
Details of the new development are not given, it is reported that tests of the new rocket launcher are already underway. MLRS is a Turkish Vuran armored car with a jet fire installation installed in the back. From the description for the video, it became known that the caliber of the projectiles used was 107 mm, in the installation of 12 guides, providing a simultaneous salvo. The range of destruction is not disclosed, like other characteristics of the MLRS. The unit itself was developed by Roketsan.
In the basic version, Vuran is a classic off-road armored car of the MRAP 4X4 type manufactured by the Turkish company BMC Otomotiv. It was first shown in Turkey in 2017. Weight - 18,5 tons, equipped with a 375 hp Cimmins ISL engine, capacity - 11 military personnel (crew of 2 + 9 troops). A remote-controlled combat module is installed as a weapon. Armament - machine gun (7,62 mm or 12,7 mm).
The machine is equipped with a front and rear view camera, an automatic fire extinguishing system. The tires have inserts that allow you to move even with all the punctured wheels. An air conditioner is provided in the cabin, which also has a heating function.