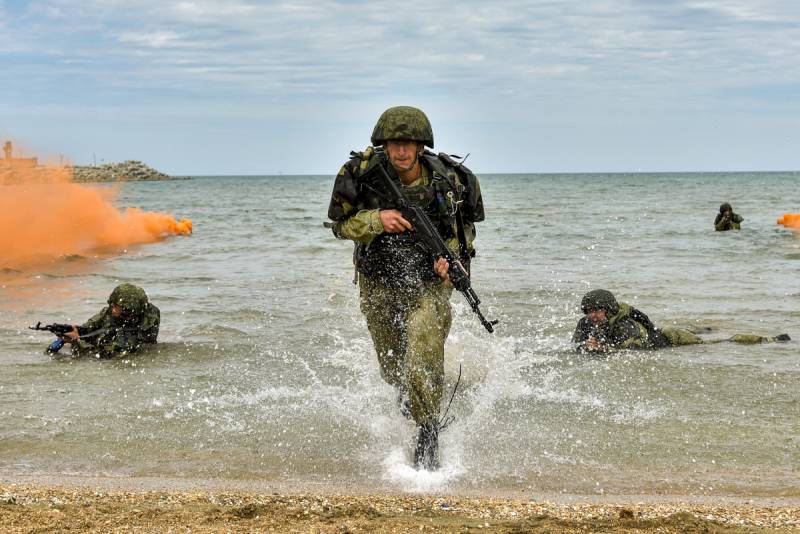 If recently representatives of the Ukrainian authorities declared that Russia "can launch an offensive against Ukraine from three directions", now the number of such "directions" voiced in Kiev has grown. The head of the SBU Ivan Bakanov, during his speech at the forum "Ukraine 30. Country Security", voiced as many as six "directions" for the "Russian invasion".
From the statement of the head of the Security Service of Ukraine:
Today, the combat strength of Russian troops near the borders of Ukraine and in the occupied Crimea is more than 100 thousand people.
According to Ivan Bakanov, Russia has focused "on the borders with Ukraine"
Tanks
, aircraft, ships, helicopters, groups of missile forces and artillery, BTG (battalion tactical groups).
Bakanov showed the participants of the all-Ukrainian forum a map on which blue arrows indicated "the probable directions of the invasion of Russian troops."
The first direction in which Russian troops can allegedly launch an offensive, the head of the SBU designated Donetsk. According to him, in this direction, the RF Armed Forces aim to take control of the territories of Donetsk and Lugansk regions.
The second is Crimean, with the occupation of the Kherson and Nikolaev regions.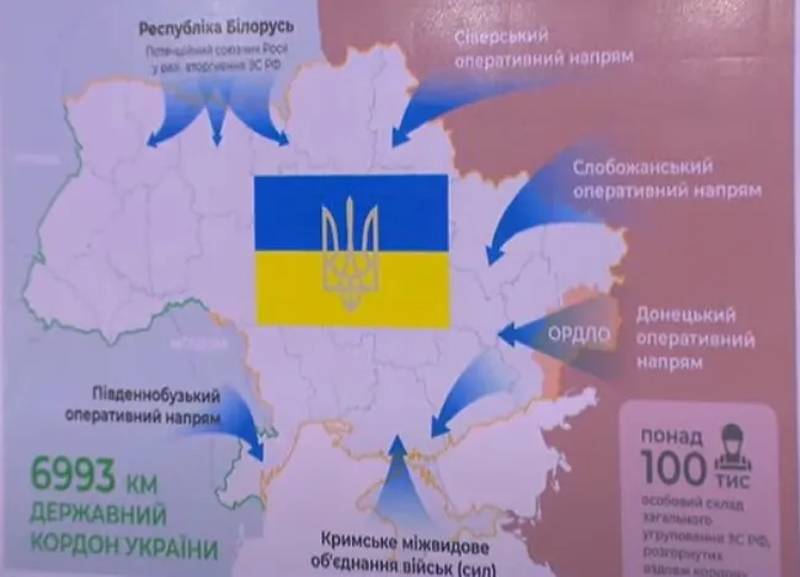 The third is Slobozhanskoe. Moreover, under the Slobozhansky direction, Mr. Bakanov means an "offensive" on the Kharkov region.
The fourth direction is Siverskoe (Severskoe). This is an "attack" on the Sumy and Chernigov regions.
The fifth direction is Yuzhnobugskoe. Judging by the map presented by Bakanov, by this direction he means a "strike" on the Odessa region from Moldova. Apparently, we are talking about Transnistria and the Russian peacekeepers stationed there. At the same time, the blue arrow is depicted in such a way that its beginning clearly goes beyond the borders of the Republic of Moldova, spreading to the territory of Romania. The graphic designer from the SBU overdid it ...
And the sixth direction, from which three blue arrows are depicted at once, is Belarusian. From there, the head of the SBU also expects a "Russian offensive".
Ivan Bakanov:
Today 65 percent of the Ukrainian territory is vulnerable. The rest of the territories also require our vigilance.
These statements by Bakanov are commented on by ordinary Ukrainians, noting that the situation is being aggravated by the Ukrainian authorities and security forces themselves. One of the comments:
All Bakanov had to do was jump out of the window, shouting "The Russians are coming!"