The parade dedicated to the 76th anniversary of the Victory took place in the capital of the Donetsk People's Republic. In total, more than 1,6 thousand servicemen and 76 units of military equipment marched along the central streets of Donetsk. The number of units of military equipment corresponded to the number of years that have passed since the victorious May 1945.
On the main square of Donetsk, representatives of the DPR authorities took part in the festive event, including the head of the republic, Denis Pushilin, and the chairman of the cabinet of ministers, Alexander Ananchenko. The solemn meeting was attended by veterans of the Great Patriotic War, thousands of residents of the DPR.
The military parade was hosted by the head of the DNR UNM, Major General Denis Sinenkov.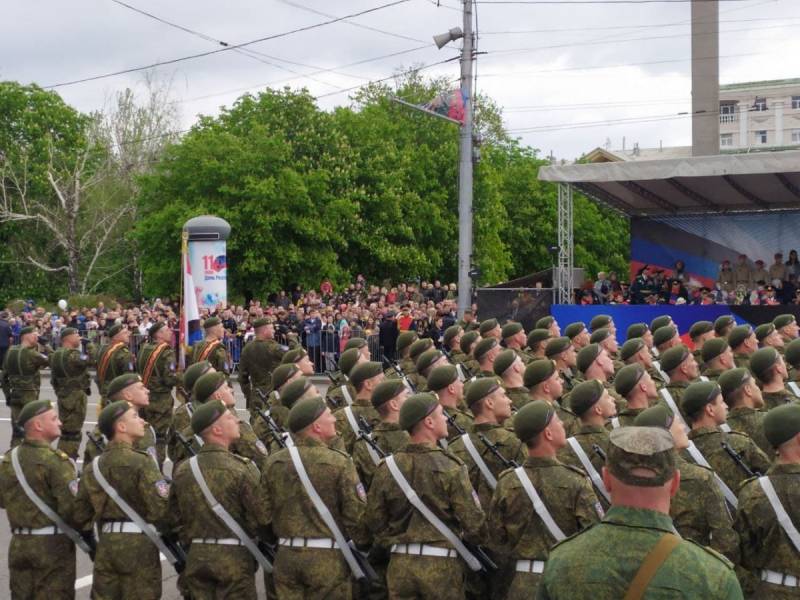 The head of the republic Denis Pushilin, addressing the audience, noted that May 9 for every resident of the DPR is national memory and pride.
Denis Pushilin:
It
история
each of our family, a piece of the soul, passed on to us by our grandfathers and great-grandfathers.
Denis Pushilin thanked the veterans for the courage and heroism shown during the Great Patriotic War, noting that time has no power over steadfastness and steel fortitude.
In addition to the military parade, the procession of the "Immortal Regiment" took place in Donetsk. Attention was drawn to the person whose portrait was carried during this procession by the publicist and public figure Tatyana Montyan. It was a portrait of the grandfather of the current president of Ukraine.
Tatyana Montyan:
Let Zelenskiy's grandfather walk in the Immortal Regiment (in Donetsk) while his grandson arranges the procession of the SS Galicia Division in the center of Kiev.
Montyan noted that she wants to hope that Donetsk will not be surrendered and that there will never be a procession like the Kiev one in the city.
Tatyana Montyan added that she published on the network a large number of photos with the current leaders of Ukraine, who a few years ago themselves took to the streets with St. George's ribbons, and now they "pack people" for these ribbons.