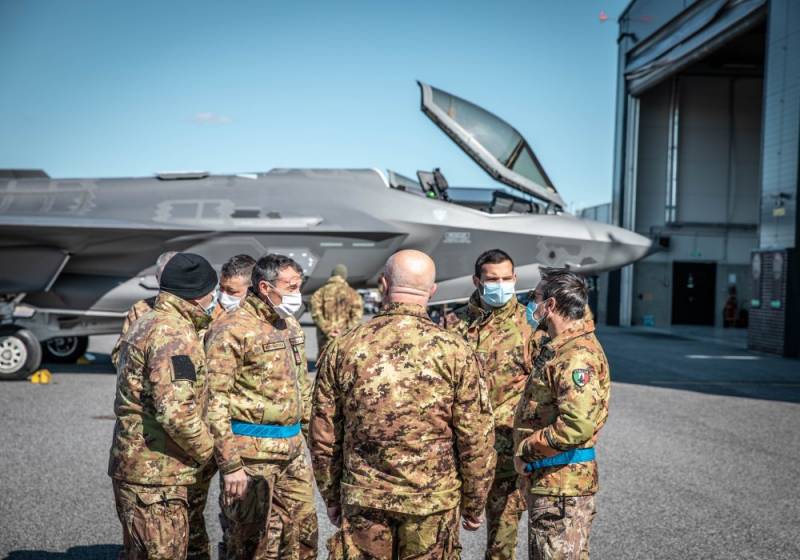 The airspace over the Baltics will be guarded by Italian F-35 fighters for the next four months. The ceremony took place on Monday at the Estonian airbase Emari.
Four F-35 fighters from the 13th group of the 32nd regiment of the Italian Air Force on Monday, May 3, officially took over the protection of the Baltic airspace. The duty will last four months, after which they will be replaced by a group from another NATO country, it is not yet known from which one. The Italians themselves replaced the Germans who were in Estonia since August 2020 on Eurofighter fighters.
The ceremony was attended by the Estonian Defense Minister Kalle Laanet, who did not fail to remind that the Italian pilots will defend the skies of Estonia and other Baltic countries from "Russian aggression", which is constantly "growing". He did not forget to tell how the huge masses of Russian troops, which were concentrated on the Ukrainian border and prepared for an attack. He recalled that everyone needs to collectively prepare to repel a "possible attack" that is being prepared by an insidious Russia.
Four Italian F-35A aircraft, accompanied by a Boeing KC-767A tanker aircraft of the Italian Air Force, arrived in Amari on April 30 from the Italian base Amendola. It is noted that this is the first rather long deployment of the F-35 near the Russian borders, earlier in 2017, two F-35 fighters of the US Air Force visited Amari on a short-term visit, but after a demonstration of "solidarity with Estonia" they quickly retreated.