Turkish drones Bayraktar TB2, purchased by Azerbaijan, during the military conflict in Nagorno-Karabakh destroyed over three battalions of Armenian
tanks
... This follows from the infographics that appeared on the web.
According to the data presented in the picture, by the way, first shown back in October 2020, when the hostilities in Nagorno-Karabakh were still being waged, the Turkish Bayraktar TB2 drones destroyed 114 Armenian tanks, i.e. more than three battalions, 43 infantry fighting vehicles and armored personnel carriers, 141 artillery mounts and MLRS, as well as a bunch of other military equipment of the Armenian army, and this is only 24 days. The military conflict between Azerbaijan and Armenia lasted 44 days, which means that about the same number was destroyed over the next 20 days?
Judging by the data presented, only Bayraktar TB2 drones fought in Nagorno-Karabakh, all other weapons were used insofar as. Even loitering ammunition purchased from Israel hit fewer armored vehicles than Turkish drones.
It is possible that this infographic is actually part of an information war, which was supposed to show Armenia that Azerbaijan is armed with "the most reliable attack drone" capable of destroying a bunch of enemy weapons without losing a single UAV. The Armenians also did not hesitate to report the "great losses" of the other side. Another month of the conflict has not passed, and Yerevan has already reported about 15 shot down Su-25 attack aircraft of the Azerbaijani Air Force, 514 (!) Destroyed tanks and 168 drones.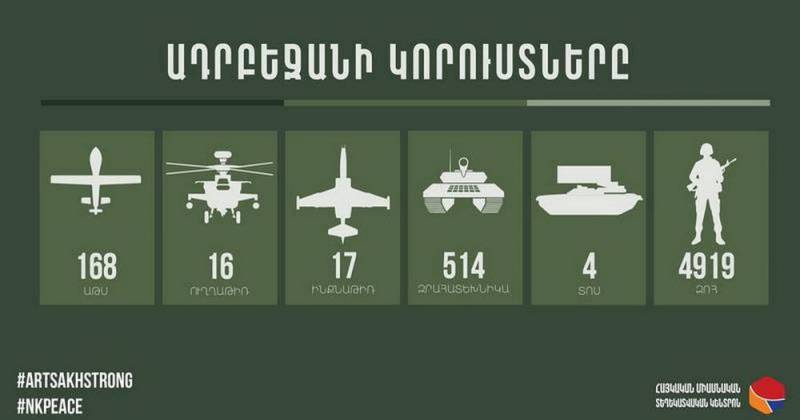 So this data should be treated with caution.