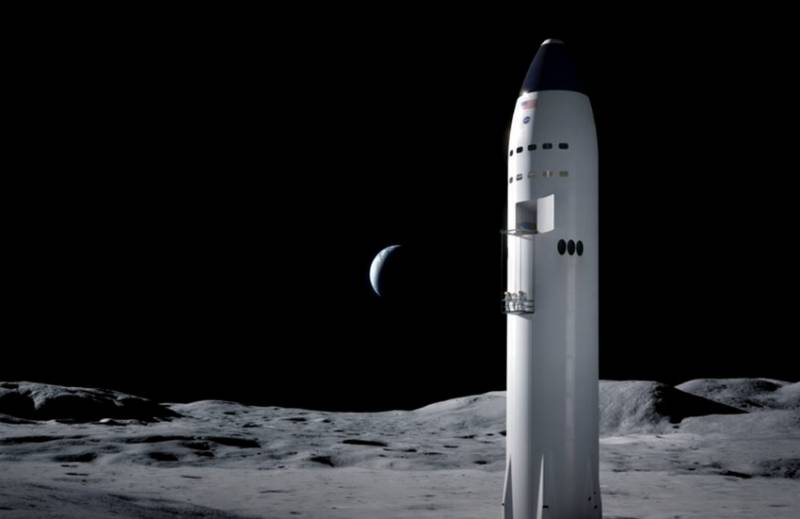 The National Aeronautics and Space Administration of the United States (NASA) has suspended the contract for the creation of the lunar module, concluded with the company Elon Musk SpaсeX. This was reported by NASA.
The contract for the creation of the module is suspended, Blue Origin and Dynetics have protested the agreement between NASA and SpaсeX. Now the fate of the contract, which means the lunar module, will be decided by the General Administration of the United States, which is an organ of the Congress. Until congressmen make their decision, Musk will not receive money to work on the module, which could mean a shift in the US lunar program to the right.
Just two weeks ago, NASA announced the conclusion of a contract with Elon Musk's company for the development of a lunar module under the Artemis program for $ 2,9 billion. In the competition, SpaсeX was ahead of Jeff Bezos' Blue Origin, as well as Dynetics.
According to the contract, SpaсeX was to develop a lander for landing on the surface of the Earth satellite as part of the Artemis program. Initially, a manned flight to the Moon was planned for 2024, it was assumed that the Orion spacecraft with US astronauts would arrive in orbit of the Earth satellite, after which two astronauts would go to the surface, spend a certain time there, and return back.
Now the terms can be significantly shifted, since it is not known how long the "showdown" around the contract will last. Although it is possible that Musk will build the module at his own expense, pending the "unlocking" of the contract and the receipt of money from NASA. In the option that after the proceedings, the contract for the lunar module will receive Blue Origin or Dynetics, as it is hard to believe, although anything can happen.