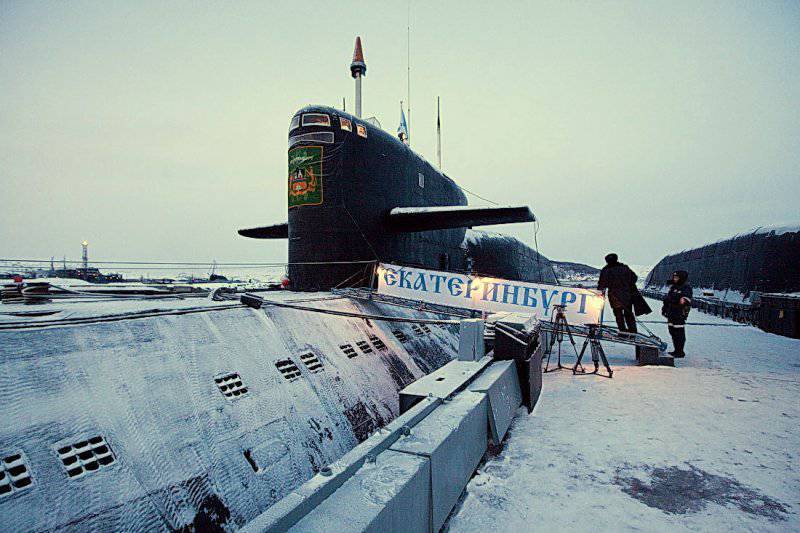 In the next year, in 2022, the Northern Fleet will withdraw from its membership the strategic nuclear submarine missile cruiser K-84 "Yekaterinburg" of Project 667-BDRM "Dolphin". It is reported by
TASS
with reference to a source in the DIC.
According to the source, the Yekaterinburg SSBN will be sent for recycling. The reason is the age of the submarine that became part of
fleet
in 1985 year.
Although there is no official confirmation of this information, it can be argued that Yekaterinburg will be scrapped. Although the submarine is still listed in the combat composition of 31 submarine divisions of the Northern Fleet's submarine forces stationed in the Yagelnaya Guba Bay, the submarine's service life expired back in 2017 and was not going to be extended. The talk about writing off SSBNs has been going on for a long time, but there was no free capacity for disposal, and in 2022, apparently, they will appear and the submarine will go for dismantling.
The submarine missile cruiser "Yekaterinburg" project 667-BDRM "Dolphin" was laid down at Sevmash on February 17, 1982, launched on March 17, 1985, and on December 30 of the same year, as they say "under the Christmas tree", the submarine became part of the Northern Fleet ... In 1996-2003, Yekaterinburg underwent a medium repair with modernization at Zvezdochka; in the period from 2011 to 2014, its service life was extended until 2017.
Displacement above water 11740 tons, underwater 18200 tons. The longest length at design waterline is 167,4 meters, the largest hull width is 11,7 meters, the average draft at design waterline is 8,8 meters. Surface speed 14 knots, underwater speed 24 knots. The working depth of immersion is from 320 to 400 meters. The maximum immersion depth is from 550 to 650 meters. Cruising endurance from 80 to 90 days. The crew is 140 people.