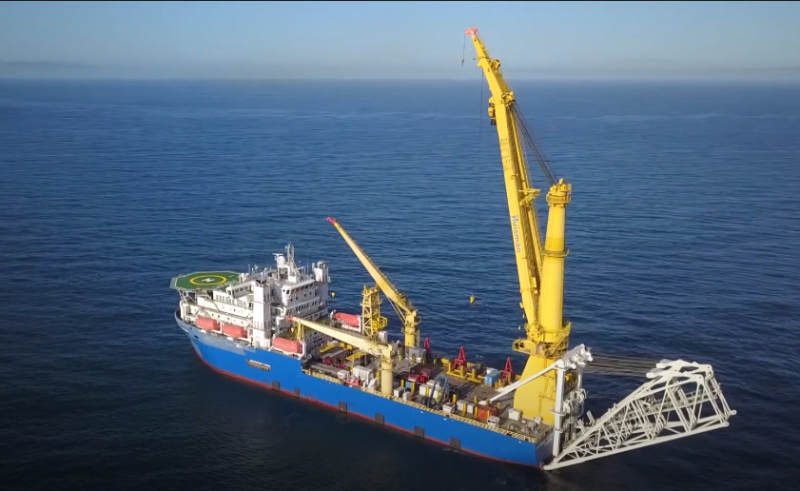 The pipe-laying vessel Akademik Chersky, which has been in the pipeline-laying area since the beginning of April, has started pipe-laying. The works are carried out in the territorial waters of Denmark.
The company-operator Nord Stream 2 AG announced the joining of the vessel to the laying of the pipeline. Work commenced on 27 April, although the vessel arrived in the stowage area earlier this month. As it is explained, all this time "Akademik Chersky" has been carrying out preparatory work before the start of pipe laying. On April 20, support and supply vessels began to draw in to the pipe-layer, and the Akademik Chersky itself stood at the point of laying the pipeline.
The pipe-laying barge Fortuna is also continuing to lay the pipe, the work will be carried out in parallel, while the speed of laying the pipeline by Akademik Chersky will be higher, since it does not need anchoring like Fortuna. It is the anchor positioning of the barge that slows down the pipe-laying speed.
As previously reported, Akademik Chersky will lay the first string of Nord Stream 2, while Fortuna will continue construction of the second string. According to the Danish Energy Agency (DEA), the work will last until the end of September 2021.
There is no exact data on the timing of the completion of the Nord Stream. As Deputy Prime Minister Alexander Novak said last Friday, the gas pipeline will be completed in 2021. According to him, the operator company Nord Stream 2 AG could have announced more exact dates, but they are silent, continuing the work. The first gas through the new gas pipeline is to go to Germany in 2022.