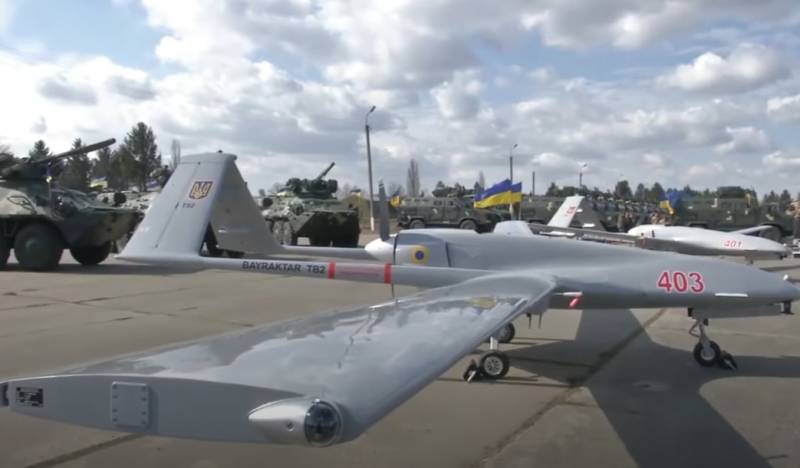 The Ukrainian press confirms the information that the Ukrainian Armed Forces raised a Turkish-made Bayraktar TB2 reconnaissance drone into the air and sent it to the borders of Crimea. In particular, it is indicated that the Bayraktar TB2 of the Ukrainian armed forces flew to the air borders of the Crimean peninsula.
Simultaneously with the Ukrainian Turkish-made drone near the airspace of the Crimea, there is a strategic radio-technical reconnaissance aircraft of the British Air Force RC-135W.
Earlier, the American strategic drones Global Hawk also approached the borders of Crimea. At the same time, it was reported that one of them for some time lost contact with the control base after approaching the borders of the LPR.
The UAV Bayraktar UAV, as reported by the Ukrainian media, including Defense Express, took off from the airfield in the city of Starokonstantinov, Khmelnytsky region. If this is true, then it turns out that the control of the "Bayraktar" of the Armed Forces of Ukraine was transferred between ground stations. Indeed, according to the Turkish manufacturer Bayraktarov, the UAV's control radius from the ground station does not exceed 150 km, which is much less than the distance from Starokonstantinov to the Crimean borders. Whether the Ukrainian UAV could be controlled by the British RC-135W is still an open question. At least, nothing was previously known about such management.
It is noted that Bayraktar TB2 moved at an altitude of about 6 thousand meters with a maximum speed of about 230 km / h.
Earlier it was reported about the approach of a drone to Crimea, which was moving towards the Black Sea from Israel.