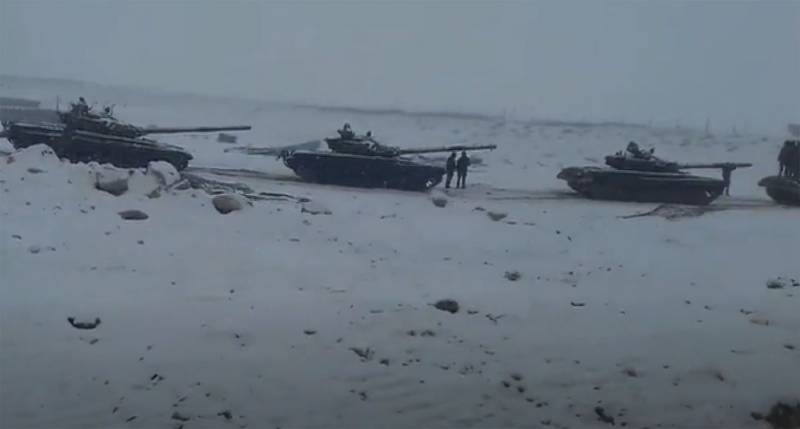 Indian command announced the need for a mass purchase of lungs
tanks
for the needs of the army. Representatives of the Indian generals say that such tanks would make it possible to "effectively resist the Chinese army in the highlands."
First of all, the option of transferring light tanks to the Ladakh region is being considered, where some time ago there was a clash between the military personnel of India and China and there was a significant escalation. Now, after multi-stage negotiations, the troops of both countries are withdrawing from the contact line, but New Delhi accuses China of "slowness in the withdrawal of its troops."
The Indian generals believe that 350 tanks weighing up to 25 tons would be a suitable option for the Indian army. It is noted that such tanks would allow better maneuvering in the highlands. It is also noted that they will be "easier to transfer to Ladakh than more massive armored vehicles."
These statements by representatives of the Indian command draw special attention to themselves in connection with the contradictory logic of New Delhi. When the T-72 and T-90 tanks of the Indian armed forces were transferred to Ladakh, the Indian military declared their indisputable advantage over the Chinese Type 15 "mountain" tanks. India region. Then the Indian officers said that the Type 36 was powerless against the T-15 and T-72, since the Russian-developed Indian tanks have more serious protection and weapons.
Now there are statements that "T-72 and T-90 are too heavy for use in Ladakh."
In addition, the Indian command expects that light tanks, which the Indian armed forces could receive, will be equipped with means of protection against air strikes - primarily from drones. In this regard, India is going to take into account the foreign experience of hostilities in Nagorno-Karabakh, where the Azerbaijani army actively used the Turkish attack reconnaissance drones "Bayraktar".
The Indian Arjun tanks of the Indian Armed Forces were not used at all in the Ladakh region, since they showed themselves even in the middle mountains, to put it mildly, not from the best side. One of the problems was associated with the operation of the Arjun engines in conditions of a decrease in the concentration of oxygen in the air.