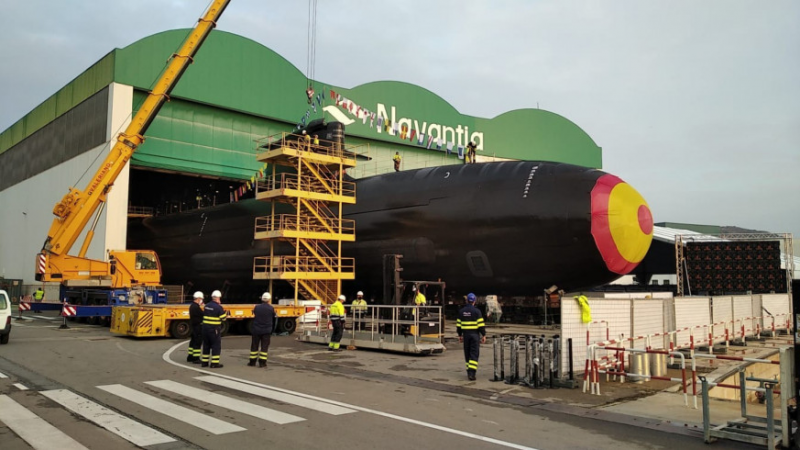 The Spanish Navy will soon receive a new large non-nuclear submarine (NNS). The launching ceremony of the lead submarine of the national project S-80 Plus (S-80A) took place on April 22, 2021 at the shipyard in Cartagena.
The head large submarine S 81 Isaac Peral was deflated 16 years after laying. The submarine will be completed afloat, the launch of the factory sea trials is scheduled for January 2022, the transfer to the Spanish
fleet
- for 2023.
The ceremony was attended by King Philip VI of Spain and the Spanish royal family, which speaks of the importance of the event. The thing is that the program for the construction of non-nuclear submarines for the Spanish Navy has been very long. In 2004, the shipbuilding company Navantia pledged for 2 billion euros to build a series of new submarines of the S-80 project in order to replace 4 diesel-electric submarines of the Agosta type of the Spanish Navy.
The delivery of the lead submarine was planned in 2011. However, miscalculations in the design led to an increase in the weight of the submarine and problems with surfacing. The project had to be revised and now, with a delay of 10 years, the lead submarine, laid down in 2005, was launched.
S-80 project diesel-electric submarines are 80,8 meters long and 11,68 meters wide. The displacement of ships is 3 thousand tons. S-80s can reach speeds of up to 19 knots. The submarines are armed with six torpedo tubes of a caliber of 533 mm for torpedoes and anti-ship cruise missiles.
All submarines of the S-80 project will receive an air-independent power plant (VNEU), developed by Navantia in conjunction with Abengoa. The third submarine of the project will receive the first VNEU; it will be installed on the head and the first serial VNEU after the submarine is put into operation.