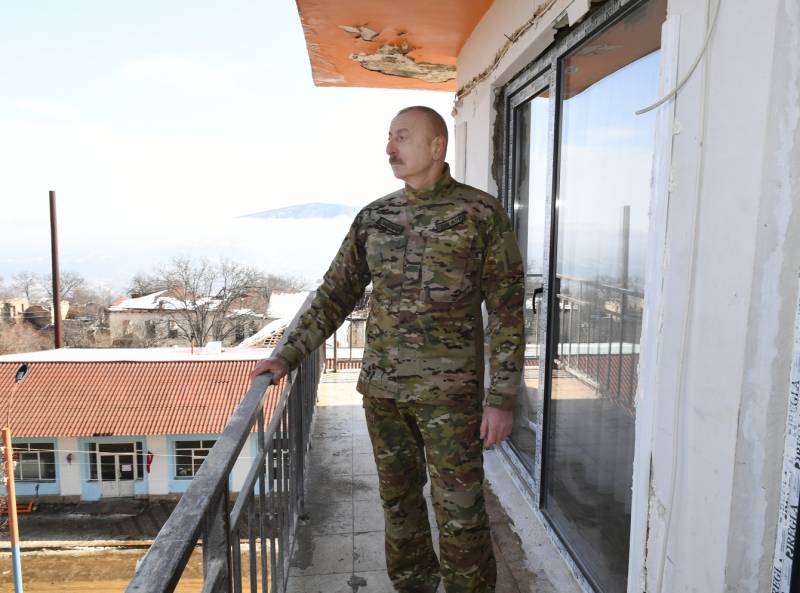 The President of Azerbaijan has disclosed information about who specifically he was interested in the appearance of the Iskander-M OTRK missile. Recall that at the opening of a trophy equipment park in Baku, Ilham Aliyev, posing in front of television cameras against the background of a stand with fragments of a rocket and the inscription "Iskander-M", asked the question "where did Armenia get the missiles that it should not have?" Aliyev then stated that the Armenian side used these missiles to strike at Shusha when the Azerbaijani troops attacked the city during the war in Karabakh.
As it turned out, Aliyev sent a letter with a relevant question to the Russian Ministry of Defense, and also discussed this topic with Russian President Vladimir Putin.
Aliyev made the corresponding statement in an interview with Azerbaijani TV.
He pointed out that "he must tell the people of Azerbaijan about how everything was and how it is."
The Azerbaijani president spoke about Russia's response:
This is a very serious question. It is not easy. Therefore, there should not be any secrets. The Russian response indicated that no such ballistic missile launches had been recorded.
According to Aliyev, it is still impossible to deny this launch, since the newly opened fleet of captured equipment contains fragments of such a rocket (Iskander-M complex).
The President of Azerbaijan said on the air that he expresses the hope that "the situation will clear up after all."
According to Aliyev, when the same question was asked to Yerevan, they simply kept silent there. At the same time, the leader of Azerbaijan claims that Baku has "all the data on when, who and from where launched the Iskander-M missile."
Aliev:
We are waiting for an answer to the question whether these missiles were transferred to Armenia or illegally removed from the territory of the Russian Federation.
It should be reminded that earlier the Armenian Prime Minister Nikol Pashinyan announced the use of Iskander missiles, which "either did not explode or worked by 10%." After a while, Pashinyan said that he had been misinformed, in fact repeating the thesis of the Russian Ministry of Defense.