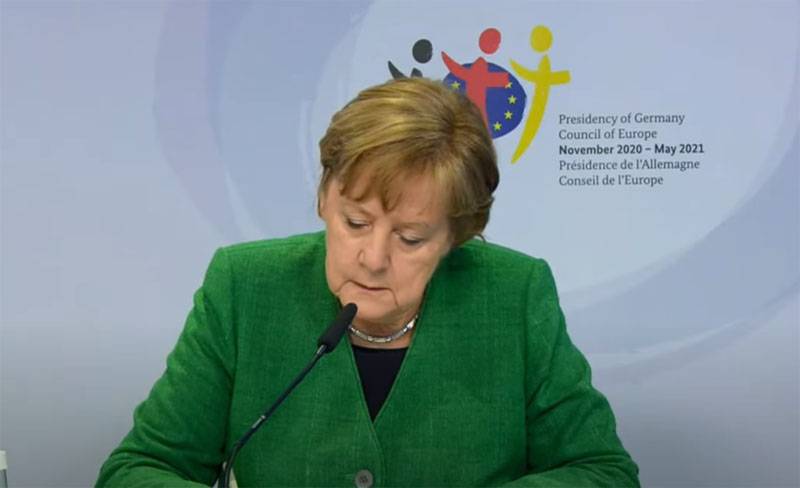 During her speech at PACE (Parliamentary Assembly of the Council of Europe) in a remote format, German Chancellor Angela Merkel touched upon the implementation of the Nord Stream 2 project. Recall that this project has been implemented by about 95%. It remains to lay less than 130 km of pipes along the bottom of the Baltic Sea. However, at the same time, the commercial project is facing incredible pressure - primarily from the United States, which is trying to promote its LNG on the European market.
According to Merkel, she is well aware of all the disputes and contradictions that relate to Nord Stream 2. At the same time, she unambiguously noted that "the choice in favor of this gas pipeline has already been made."
According to the German Chancellor, Berlin and Brussels have developed a consolidated position within the framework of the new "gas" directive. As a result, this directive allows the construction of SP-2 and the pumping of gas from Russia through it.
Merkel:
Now I want to say that the gas from Nord Stream 2 will be no worse than the gas that is already flowing through SP-1, as well as through pipelines through Ukraine and Turkey.
So Merkel actually trolled all those who declare the need to stop the construction of the SP-2 gas pipeline, since "Europe will become dependent on Russia and specifically on Russian gas."
At the same time, Angela Merkel made it clear that in Europe today there are forces that are fighting for power and for these purposes are trying to use their populist political statements where the matter has nothing to do with politics.
Let's remind that parliamentary elections are coming soon in Germany. Opponents of SP-2 expect the failure of Merkel's party and the emergence of a politician at the helm of the Federal Republic of Germany, who will take the most tough stance towards Russia. The position of the CDU-CSU in Germany has really weakened, which is primarily due to restrictions during the pandemic and problems in the field of vaccination.