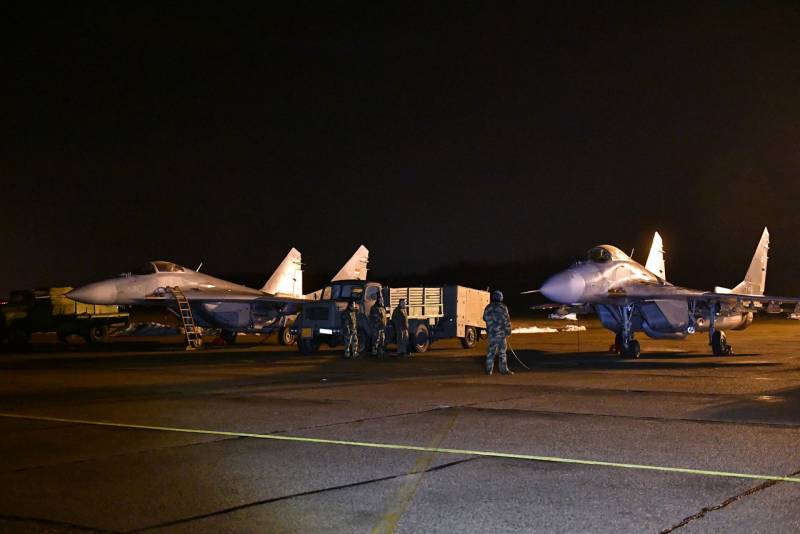 The Serbian Air Force was replenished with two more MiG-29 fighters. According to the Ministry of Defense of the republic, the military received two fighters from the presence of the Belarusian Air Force.
On April 17, the Russian military transport aircraft An-124 Ruslan landed in Batainitsa, delivering the first pair of MiG-29 fighters to Serbia. In total, Belarus handed over to Serbia four fighters from the presence of its Air Force. The handover took place back in February 2019, but the planes began to arrive in Serbia only now, since they were undergoing major overhaul with modernization, carried out in Baranovichi.
The Serbs explained that the Belarusian MiG-29s underwent exactly the same modernization as the Russian MiG-29s, also transferred to the Serbian Air Force. Thus, after the arrival of the second pair of "Belarusian" fighters, the Serbian Air Force will have 14 MiG-29s in a fully operational state. Let us remind that six fighters were handed over by Russia, four by Belarus and four of its own, which remained "from the former luxury."
It is specified that the "Belarusian" MiGs underwent modernization at the aircraft plant in Baranovichi, while those transferred by Russia were modernized in Serbia at the Moma Stanojlovic military aircraft repair plant in Batajnica with the participation of Russian specialists. In addition, thanks to the Russian side, the Serbs were able to modernize the four MiG-29s that remained in service with the Air Force (three single-seat MiG-29Bs and one twin MiG-29UB).