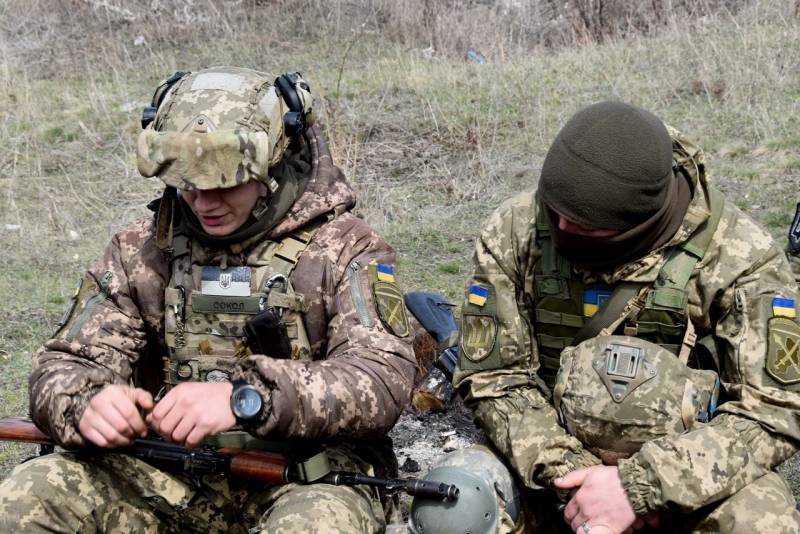 Former commander of the so-called "Anti-Terrorist Operation" (ATO) Hero of Ukraine, Lieutenant General Mikhail Zabrodsky made a statement about the possible development of the situation in Donbass. According to Zabrodsky, "Russia has a quantitative advantage, and therefore unequivocal security for Ukraine can only be guaranteed by joining NATO."
According to General Zabrodsky, who answered the question of Ukrainian journalists, "if we say that this (the situation in Donbass) is a dead end and there is no other way out, then we need to prepare ourselves and the public to prepare" for the military scenario.
The Lieutenant General of the Armed Forces of Ukraine announced that the Ukrainian army is ready to go on the offensive in Donbass, but on condition. According to him, the army will go forward if it feels public support on a national scale, the unity of efforts of the entire country and the readiness of reserves. The general did not speak about when such a condition could be realized.
The Ukrainian general was asked if he believed that Donbass would be Ukrainian again.
Without answering the question directly, the hero of Ukraine said that "you need to understand why Russia needs it (Donbass) in this form".
According to the general of the Armed Forces of Ukraine, Russia "takes advantage of the fact that this is a wound on the body of Ukraine." Zabrodsky said that if Ukraine agrees to all the conditions, including federalization and special status, then "the economic and political burden of maintaining these territories will be completely transferred to Kiev." In fact, the Ukrainian general reveals an important detail: in the first place, Kiev itself does not want the return of Donbass to Ukraine, although in the Ukrainian capital they constantly say that "Donbass is an integral part of Ukraine".
Then why should we attack? ..
According to the general, a campaign is underway in the territories not controlled by Ukraine, during which they talk about an imminent attack by Ukrainian troops.
Zabrodsky:
They say there: Ukraine will go on the offensive, but we, with the help of Russia, will fight back so effectively that we will even seize new territories. This disc will play for another month, two, three. Then they will come up with something else.