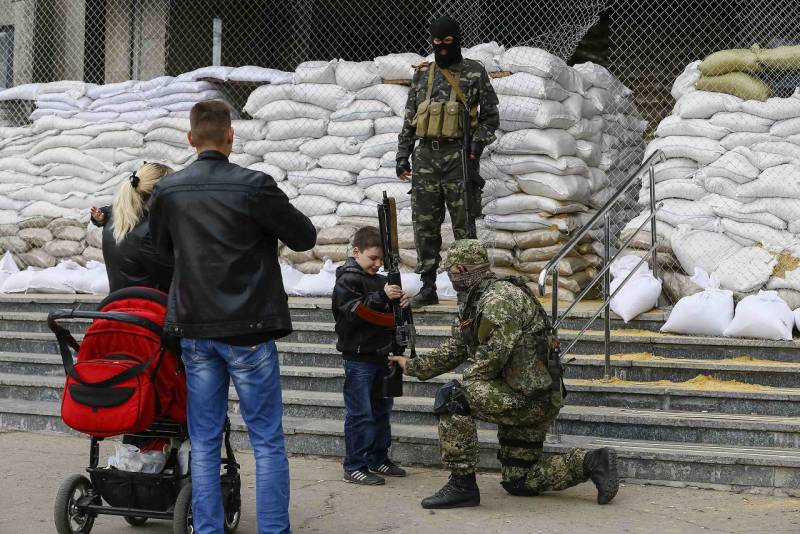 The beginning of time
Once again, it is hard and unwise to procrastinate what happened in Slavyansk in the spring and summer of 2014 - everything that could be said on this topic has long been said. Is that once again to bring my condolences to the relatives of civilians and the dead defenders of Donbass. Let the official sources, talking heads and network patriots from all possible and impossible camps chew on the duty and already pretty boring gum. We will talk with you about the conclusions and revelations that seven years of war brought us. Shocking discoveries, which for many forever divided life into "before" and "after", but someone simply cost their lives.
It was unexpected to discover that your recent neighbors are ready not only to fight against you, but to systematically destroy the civilian population. Back in 2004 and even earlier, it was clear that Ukraine had serious problems, but in April 2014 the final understanding came that there was no longer such a country; that if she existed at one time, later she was finally and irrevocably killed. And not only and not so much politicians, as their own indifferent to the whole population, which allowed neo-Nazism to flourish.
At the same time, I was amazed by the sudden understanding of the fact that despite everything, a certain number of people remained in the Ukrainian cadaver, for whom the refrigerator and TV were not as important as ideology and the notorious braces. Yes, they turned out to be desperately few (the same miners fought at the front by an order of magnitude less than they worked in 2014-2017 for hryvnia in the mines of Akhmetov), ​​but their very presence in our reality seems to this day a miracle. Even more - that they have not been extinct and exist today. Despite all the bitter lessons
A time of hard epiphanies
It was not easy to realize that not only some incomprehensible adherents of the unfinished Western Ukrainian fascists, but also your fellow countrymen, directly from Donetsk and Lugansk, are capable of genocide - just remember how many people from the cities of Donbass were in the Ukrainian National Battalions. But it was even worse to admit how many evil spirits were among their own, who were ready to trade in humanitarian aid for the sake of profit, profit from the common grief and betray. It was not easy to comprehend that not everything is so smooth in Russia, since the Ukrainian oligarch was seated on the industrial throne of Donbass, as a result of which only memories of the former potential remained.
There were many of these "wonderful discoveries": that Donbass "did not stand up like that", in contrast to the sacred Crimea. Well, and as the cherry on top - the final acceptance of the fact that all "advanced" and "progressive" humanity absolutely does not care about any atrocities and any genocide, even under its own nose. That the entire modern civilization is just gilding, with which they try to hide the grin of a predatory animal. And it goes off almost instantly.
All against all
And the most ridiculous and disgusting observation is the squabble of the former icons of 2014, who are in pursuit of: who is after ephemeral power (where does it come from in the LDNR, if local rulers are nothing more than managers), who is behind ideological chimeras or simply because of greed - do everything to please the enemy and bring confusion to the souls of the defenders of Donbass and the local population.
This endless blasphemy against each other and against the republics themselves and their population, against Russia, against its government, against the suddenly discovered adherents of opposite (and therefore sacrilegious) opinions, brings troubles no less than the Ukrainian artillery, which wounds and kills thousands. Indeed, at the same time, this endless sweaty struggle between the Khodakovsky-Shooting-Polynkovs and others like them disgusts and demoralizes hundreds of thousands.
It will no longer be possible to get rid of all these revelations. I would like, however, to believe that I will be lucky enough to survive the turmoil and get to the time when the experience gained can be used for good. That there is enough health, luck and wisdom for this. This is what I would like to wish to all residents of the LPR and Russia. We will prepare for the next round of violence and continue to accumulate valuable revelations and knowledge. Since nothing else has been offered to us.