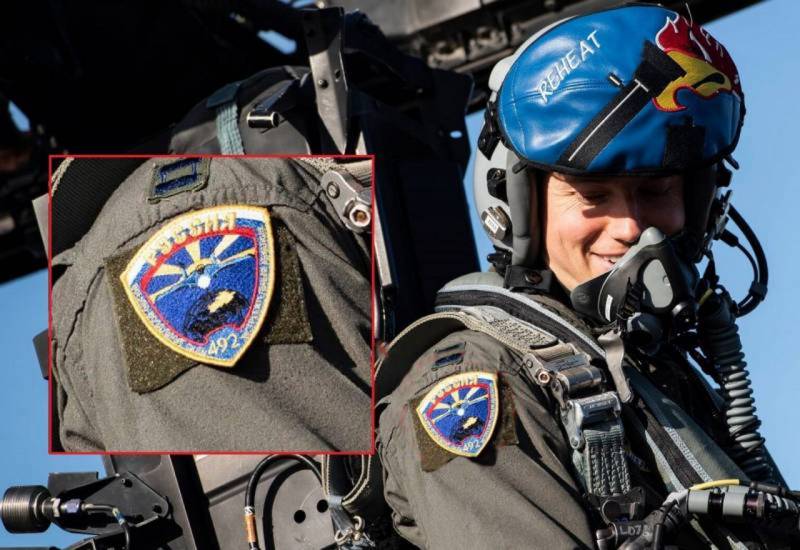 A US Air Force pilot, during a training exercise in England, caught the lens of a camera in uniform with Russian symbols. This is reported by the Defense Blog portal.
The photo appeared on April 7 on the official page of the 48th Fighter Regiment of the United States Air Force, stationed at the British Air Force Base in Lakenheath, England. The picture was taken during the Point Blank exercise. It depicts the pilot of the 492nd Fighter Squadron with a chevron depicting the colors of the Russian flag, the silhouette of a Su-27 fighter and the inscription "Russia". It is noted that the patch is very similar to the emblem of the former 611th Fighter Squadron of the Russian Air Force.
As specified, this symbolism was used during the US-British exercises, in which the 48th Regiment of the US Air Force and the Royal Air Force of Great Britain took part. Class 1 pilot Jesse Monte participated in the exercises as an aggressor and imitated enemy actions.
What plane Monte flew on is not reported, but the 48th US Air Force Regiment is armed with F-15C / D Eagle and F-15E Strike Eagle fighters.
In total, more than 50 aircraft were involved in the Point Blank exercises, including the F-15, F-16, Typhoons and F-35. Refueling in the air was provided by KS-135. How many planes simulated enemy actions is not specified.
Note that in the United States there is a special squadron of "aggressors" that acts as an adversary during the exercises, mainly portraying Russian aircraft. In Europe, this role was played by the 48th US Air Force Regiment.