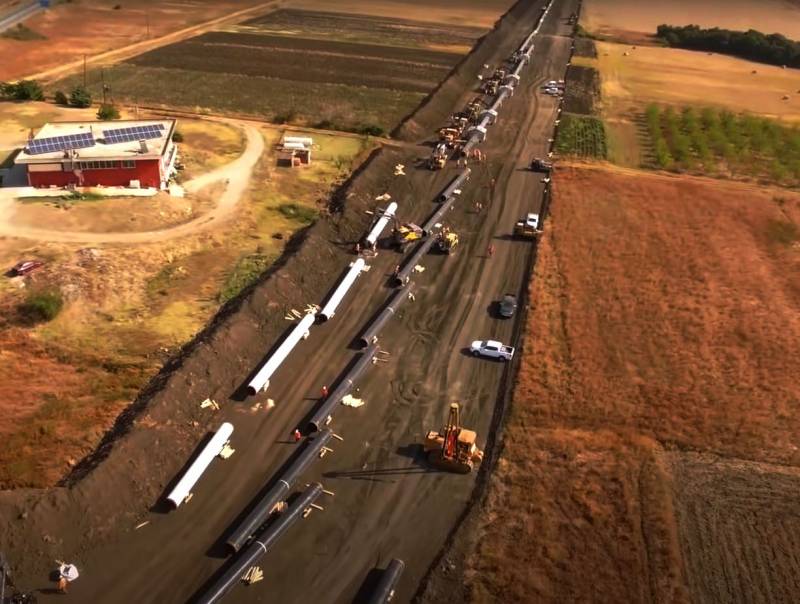 The Egyptian edition Noonpost writes about the proposal of Morocco and Nigeria to build a gas pipeline, which should pass through several African states to Europe and become an alternative source of gas supplies for European countries. Now the European Union is looking for backup options for gas supplies in order to get rid of excessive energy dependence on Russia. In this vein, the solution proposed by the countries of the African continent may become a saving straw for Europe, especially for its southern part.
Pros of African gas supplies to Europe
Europe currently receives significant volumes of gas from Algeria. However, the proposed option makes it possible to increase African supplies at the expense of Nigerian gas. As you know, Nigeria is the largest oil and gas producing country in West Africa. But the supply of Nigerian gas to Europe is hampered by the lack of a gas pipeline that would run through several African countries to the Mediterranean coast. Both Nigeria itself and the countries through which the transit will go, and in Europe - France, Spain and Portugal may be interested in the construction of such a gas pipeline.
There are quite a few advantages from such a gas pipeline for both Europe and Africa. Firstly, it is indeed a very real alternative to the Russian "Nord Stream-2". Of course, it will not be possible to completely and even to a significant extent replace Russian gas with Nigerian gas, but as a reserve and additional source - for the same Europe, an option.
Secondly, the construction of the gas pipeline will allow African countries to improve their financial situation. Gas transit through its territory will provide additional funds to many West African states.
Thirdly, the migration problem will also be partially solved, since the construction and maintenance of a gas pipeline of this level will require the attraction of significant labor resources on the territory of the African countries themselves. The level of social tension will decrease, the same African migrants will be able to work on the territory of their countries as construction and maintenance personnel, as well as personnel of additional infrastructure.
Risks for Russia
There are also obvious risks for Russia. Of course, an extra gas source for Europe is not included in Moscow's plans, as it weakens the position of the Russian Federation and creates additional competition. On the other hand, the African gas pipeline will in any case be oriented towards the South European countries, while the SP-2 is oriented towards the needs of Germany in the first place.
Gas pipeline through Morocco will be longer and more complex
However, it is still too early to speak about an African gas pipeline. Let's start with the fact that Algeria and Morocco are competing for the pipeline. Algeria has its own gas and the way to Algeria is easier - from Nigeria through Niger. Morocco does not have its own gas, so some of the Nigerian supplies will remain for Moroccan needs.
In addition, transit to Morocco will require a gas pipeline through almost all West African countries: Benin, Togo, Ghana, Côte d'Ivoire, Liberia, Sierra Leone, Guinea, Guinea-Bissau, Gambia, Senegal and Mauritania. This is a very difficult task, given both the length of the gas pipeline and the not always stable political situation in the listed states. Moreover, terrorist groups are active in some countries of West Africa, including Nigeria itself.
So far, the Nigerian side is leaning towards the Moroccan option: despite its high cost, the Nigerian authorities believe that the Europeans want to see just such a pipeline. The main buyers of Nigerian gas in this case will be Spain and France, whose companies are already actively interested in gas production in Nigeria.
But there is another interesting point: given that the listed African countries themselves are lagging behind in terms of technology, and also remembering the strong ties of many of these states with Russia, it is possible that Russian companies will also be able to get some benefit from the construction of a trans-African gas pipeline. At the very least, an increase in the prosperity of African countries through transit will play into Russia's hands, since a significant part of Russian exports goes to economically growing African markets.