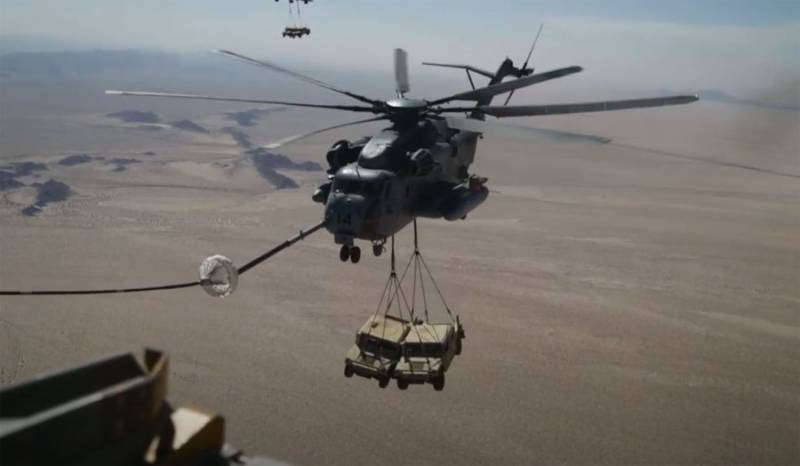 The US Marine Corps (ILC) posted a video that attracted attention online. We are talking about the use of heavy transport helicopters CH-53 Super Stallion for the transportation of army armored vehicles of the KMP.
In the area of ​​the Yuma military training ground (Arizona, USA), two armored vehicles were hooked up to the CH-53 helicopters on an external sling. This is one of the variants of the army armored vehicles "Humvee". In this version, army vehicles were transported by air. At the same time, particular attention is drawn to the fact that during such transportation, transport helicopters also made refueling in the air.
In the frames of the video below, you can see that the air tanker carries out twin refueling of helicopters, which, in turn, carry a pair of pieces of equipment on special cables. At certain stages of flight, armored vehicles deviate by a certain angle from the equilibrium position, and no noticeable movements occur relative to each other.
This kind of operation was carried out in the format of training for the military personnel of the US Marine Corps aviation link. It was noted that this allows the ILC pilots to pass certification for a special diploma. Additionally, it is indicated that this was how the effectiveness of the operational transfer of army vehicles on the ground using an external suspension was tested.
Users appreciated the operation, pointing out the professionalism of the pilots, and at the same time noted with irony that "any oversight of the helicopter pilot could at least add work to the tinsmith":
Otherwise, you may only need the services of an auto-painter - you will have to paint over the scuffs on the sides of the Humvee.