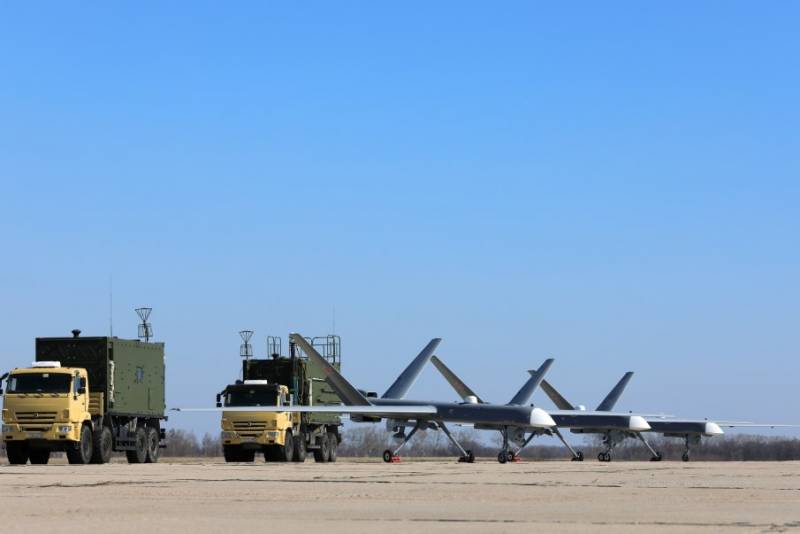 The unmanned aerial vehicle "Pacer", aka "Orion", is capable of hitting ground targets with the help of guided missiles and corrected aerial bombs. Recently, the Russian military tested a new guidance technology for these attack drones in Syria.
This information was reported to the agency
RIA News
a source related to the military-industrial complex of the Russian Federation.
At the same time, the interlocutor did not say exactly when the tests took place. The Orion drones were aimed at terrorist targets using the Strelets-M portable intelligence command and communications complex (KRUS). During the tests, it was possible to achieve high speed and accuracy. Some of the objects destroyed by the drone were detected using the complex. Their coordinates were sent by ground units to the operators of the Amokhodtsev and to the headquarters via special communication channels in real time.
The source clarified that ground reconnaissance, using Strelets-M, detects the object and marks it on the tablet, where it indicates its exact location and parameters. The information received is transmitted to the nearest drone, which strikes.
UAV "Pacer" can carry a combat load of up to 250 kilograms and stay in the air for up to 24 hours. Earlier, Russian Defense Minister Sergei Shoigu stated that this drone is capable of hitting targets 8-12 minutes after they are detected.