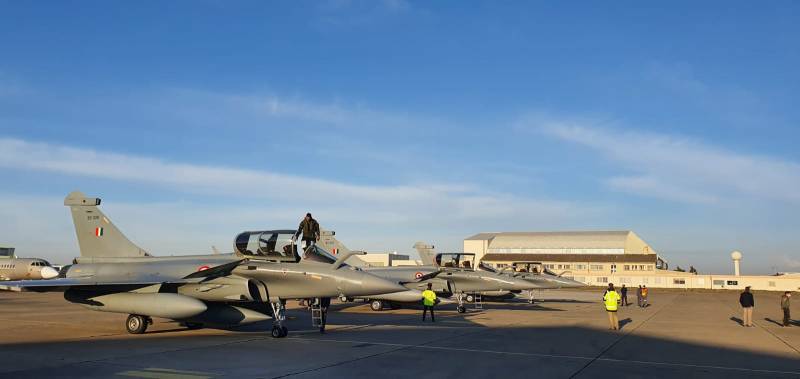 The Indian Ministry of Defense confirms information about the arrival of another batch of Rafale fighters from France. The aircraft are delivered under a previously signed contract.
This is the fourth batch delivered to India from the combat aircraft manufacturing plant. There are three fighters in this batch.
It is reported that the three Rafale fighters took off from a French base in the city of Istres (southeast of the country). In both France and India, the emphasis is on the Rafali's non-stop flights. In the first case, during the transfer of aircraft from France to India, an intermediate airfield in the Middle East was used. Now the flight was carried out in a non-stop mode - with the implementation of refueling in the air. But this refueling also attracted special attention - primarily in India itself.
It was reportedly produced by tankers not from India or France. Indian air tankers could not do this for the reason that they are not yet technologically adapted to carry out the process of refueling in the air of French-made aircraft. So who, then, flew the Rafale fighters of the Indian Air Force?
As it turned out, at the request of the Indian command, air tankers of the United Arab Emirates Air Force were flying over the Middle East.
The command of the Indian Air Force thanked colleagues from the UAE Air Force for their support during the flight of fighters from Istra to a base in India.
In this regard, among Indian experts, bewilderment arose and questions arose. One of them reads as follows:
Why weren't our own air tankers first adapted in terms of technology?
It is also noted that if this does not happen in the near future, then the range of use of French-made fighters will be limited to "one ground refueling, which may not be enough for long-distance operations, for example, over the Indian Ocean."
In this case, it may turn out that the Rafale in the Indian Air Force will be used in "close patrol". To carry out patrols over the Indian Ocean, the Su-30MKI will continue to be used.
However, earlier in the Indian command and earlier they made it clear that they were purchasing French fighters not for long-range missions, but for "covering the most difficult sections of the border." These areas in New Delhi define the borders with Pakistan and China.
Rafale Indian Air Force: