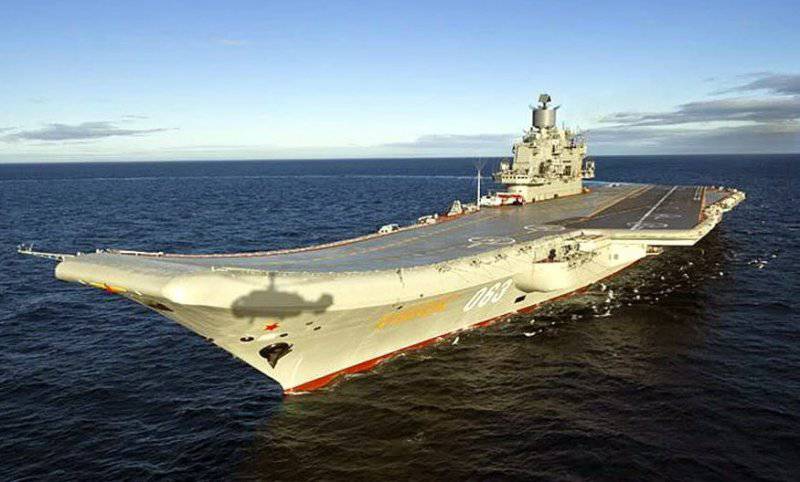 The Murmansk branch of Zvezdochka Ship Repair Center OJSC completed the restoration of the technical readiness of the heavy aircraft-carrying cruiser (TAVKR) Admiral
fleet
Kuznetsov's Soviet Union project 11435 of the Northern Fleet. On Thursday, August 23, the ship transferred to the fleet embarked on the Severomorsk roadstead.
The aircraft carrier (in the project wore the name "Soviet Union") was laid at the Black Sea Shipyard 1 September 1982 of the year under the name Riga and was launched on December 4 1985 of the year under the name Leonid Brezhnev. August 11 1987 was renamed in "Tbilisi". October 4 The 1990 of the year became known as the Admiral of the Fleet of the Soviet Union Kuznetsov. He enlisted in the Northern Fleet in January 20 1991 years.
Performance characteristics:
Speed: 29 nodes.
The autonomy of swimming: 45 days.
Crew: 1960 people.
Power of steam turbines: 4x50000 hp
Power of turbogenerators: 9x1500 kW.
Power of diesel generators: 6x1500 kW.
Dimensions:
Length: 302,3 meter.
The length of the waterline: 270 meters.
Width: 72,3 meter.
Waterline width: 35,4 meters.
Draft: 9,14 meter.
Standard Displacement: 43000 tons.
Full displacement: 55000 tons.
Maximum displacement: 58600 tons.
Armament:
The aircraft carrier is equipped with missile launchers (12 anti-ship missiles Granit and 60 missiles Udal-1), anti-aircraft missile systems Klinok (192 missiles, 24 launchers) and Kashtan (256 missiles). The board can have up to X-NUMX Ka-24 multi-purpose helicopters, up to 27 supersonic Yak-16-M multi-purpose vertical take-off and landing aircraft and up to X-NUMX deck fighters Su-41K.